Fab Sale Round-Up: GILT Baby & Kids, My Blue Birdie and More!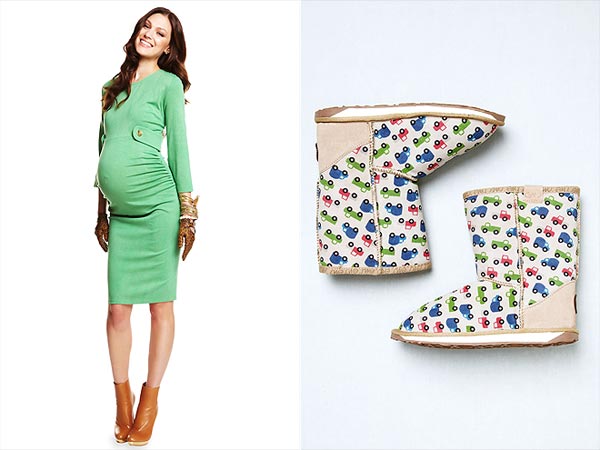 Courtesy Gilt Groupe
Next week, GILT Baby & Kids is hosting a few fab sales worth checking out. You'll find loads of chic toys, accessories, shoes and clothing from Kel & K Boys Apparel (10/21), Amelia Italian Kids Clothes (10/22), Present Time Toys and Furniture (10/23), Decorative Kids Lighting (10/23), More of Me Maternity (10/23), Melissa and Doug (10/24), Ever After Apparel (10/24), James Jeans Maternity (10/25), Bonnie Baby (10/25), and more!
Our picks: The More of Me Maternity Long Sleeve Dress (now $102, originally $198) and the Wallaby Printed Boot (now $60, originally $100), above.
Make sure to also check out their new "shop by age" feature, which allows you to search boys, girls and unisex baby products in different age categories for easy gift shopping. Not a member of Gilt? Use our exclusive link to sign up.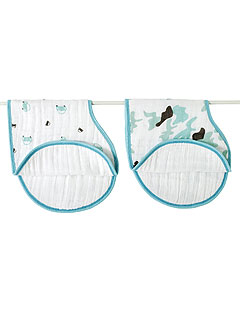 Courtesy Baby Steals
BabySteals Until Nov. 6, this site is offering our readers exclusive deals on celeb fave brands including ErgoBaby, Aden + Anais and Trumpette. Our pick: The Burpy Bib 2 Pack (now $13, originally $22), left.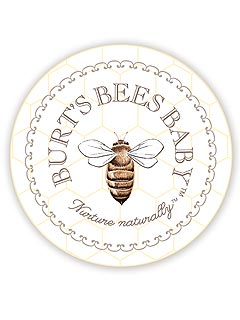 Courtesy Burt's Bees
Burt's Bees Baby The company has just launched their first e-commerce shop chock full of adorable baby goods including their 100 percent organic cotton layette collection.
To celebrate, they're offering our readers an exclusive 15 percent off discount. Just enter code: BBBSAVE15 at checkout until Oct. 22.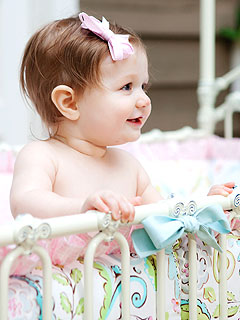 Courtesy Carousel Designs
Carousel Designs The D.I.Y. nursery design company is hosting a Pinterest contest. Until Oct. 15, just follow the company's Pinterest page and create a board pinning your favorite Carousel Design photos for your perfect nursery for a chance to win a $150 gift certificate. They will announce the winner on Oct. 17. For more details and instructions, go to babybedding.com/pinterestcontest for more details.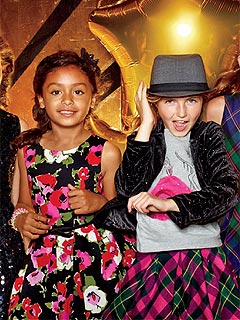 Courtesy Children's Place
Children's Place Calling all aspiring (and adorable!) models. The chic for less kids boutique is launching its second annual model search this fall to discover its next superstar. To enter, submit a photo of your handsome little man or darling little girl, and he or she just might win a starring role in their upcoming photo shoot and win a $500 shopping spree.
Additionally, one entrant will be randomly selected each day to receive a $50 gift card, and one lucky bonus sweeps winner will receive a $500 gift card at the end of the contest.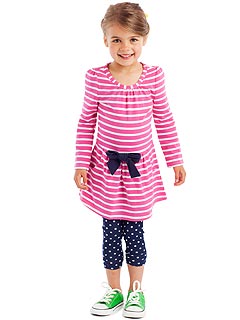 Courtesy Fab Kids
Fab Kids As October is Breast Cancer Awareness Month, FabKids and creative partner Christina Applegate are donating 10 percent of proceeds from six "Think Pink" outfits to the actress's foundation, Right Action for Women. Each outfit retails for $39.95 and is available now at fabkids.com.
"Breast cancer awareness is a cause that could not be any closer to my heart, so I'm thrilled to be able to give back through my involvement with FabKids," says Applegate.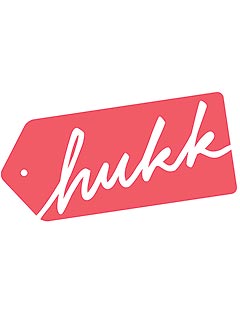 Courtesy Hukkster
Hukkster Love comparison shopping? Then this online tool is for you. As you're browsing the Web for baby items you like, you can tag them with the Hukk It pin (similar to Pinterest) and the company will notify you by email when the product goes on sale or 25 percent.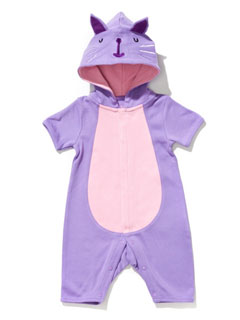 Courtesy Lazoo
Lazoo Shopping for Halloween? Make sure to check out the fun (and colorful!) animal rompers at this shop. Even cooler? They're offering not one, but two exclusive discounts to Moms & Babies readers.
For 35 percent of all character rompers, enter code HALLOWEEN35 at checkout. For 25 percent off everything else, enter code LAZOOPEOPLE25 at checkout. Hurry up: The discounts end on Oct. 31. Enjoy!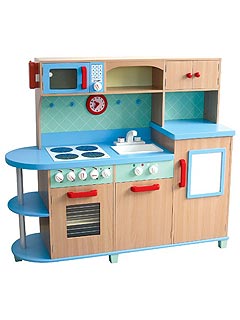 Courtesy Rue La La
Little Rue for Rue La La Next week, Little Rue is offering great sales on covetable kiddie goods including Apple Park (10/22) and Let's Play Pretend: Kitchen sets & More (10/24), starting at 11 a.m. ET.
Not a member of Rue La La? Use our exclusive link to sign up.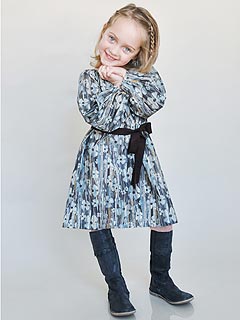 Courtesy The Mini Social
The Mini Social Here's what's coming up next week on this chic kids e-sample site:
10/22: Dapple Grey, Mailpix.com and PB Green, 10/23: Spunky Stork, Eye Scream Shades and Zuo Kids, 10/24: Crowsmack, Lilliella and Imagiplay, 10/25: Ferd (left), Joojoos Shoes and Violet's Peapod, 10/26: Tomat, Shure Toys, 10/27: Bloomin Bath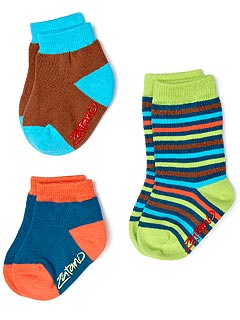 Courtesy My Blue Birdie
My Blue Birdie This new flash sales site is carefully curated to include well-designed products new parents really need and want at up to 50 percent off.
Ready to join? Here's what's coming up next week: Blu democracy (10/22), Zutano (10/24), Love this Life (10/24), Cantaloop (10/26), Blooming Bath (10/26), Buckleberry Kids (10/28) and Sage Creek Organics (10/29).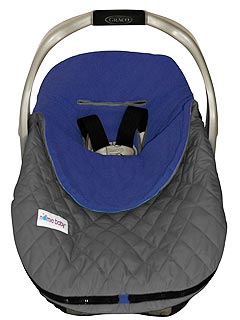 Courtesy Nomie Baby
Nomie Baby Now that the seasons are changing, nomie baby's toddler and infant stroller blankets are ideal for warm cozy strolls. For 15 percent off your entire order, enter promo code: fallnb15 at checkout.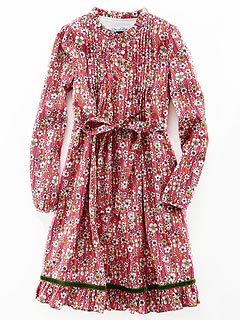 Courtesy Oscar de la Renta
Oscar de la Renta Until Oct. 31, the designer is hosting "The Pink Shop," which features pink clothing and accessories (including this beautiful floral tunic dress) for moms and kids.
For National Breast Cancer awareness month, they will donate 10 percent of the shop's net proceeds to The Society of Memorial Sloan-Kettering.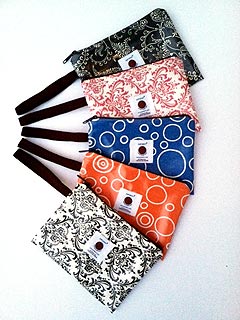 Courtesy Patemm
Patemm We're big fans of their stylish (and handy!) changing mats, so we were happy to hear they've launched a new collection for parents including an iPad Soft cover ($40), perfect pouch ($24), pitaka purse ($18) and multi-purpose pouch ($22).
To celebrate, they're offering our readers a 15 percent discount. Just enter code: PEOPLEMAG at checkout.  Also, make sure to Like their Facebook page.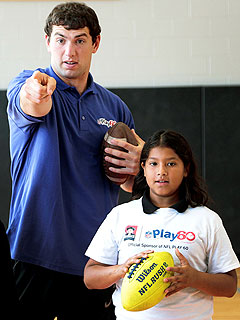 Courtesy NFL
Quaker & NFL Indianapolis Colts player Andrew Luck has teamed up with Quaker and the NFL for the NFL PLAY 60 Super Bowl contest to help motivate kids and their families to eat wholesome foods and make more time for physical activity.
To enter, participants ages six to thirteen can visit QuakerNFLPlay60.com with parent or guardian permission, answer three quick questions and pledge to spend at least 60 minutes each day getting active. The site also features a photo gallery with behind-the-scenes pictures from the NFL PLAY 60 Youth Football Festival, a video shoot with Luck and healthy tips.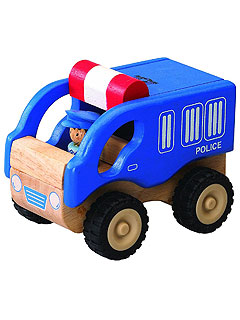 Courtesy Vine.com
Vine.com The company behind powerhouse Diaper.com has launched a brand new eco-friendly shop. You'll find everything from organic baby food to green wooden toys.
An to celebrate their partnership with non-profit Healthy Child Healthy World, they're offering shoppers $10 off their order and free shipping. To obtain the exclusive code, go to vine.com/healthychild2002.
Added bonus: Vine.com will donate $10 to HCHW on your behalf.