Tori Spelling: How Stella Saved My Life
One month after emergency surgery brought on by caesarean section complications and six weeks after the birth of her fourth child, son Finn Davey, Tori Spelling is enjoying her family and relishing time with her "miracle" baby.
Spelling, 39, was diagnosed with placenta previa, a condition in which the placenta covers all or part of the cervix, early on in her pregnancy and endured several bleeds before a terrifying scare that sent her to the hospital when she was 20 weeks along.
Following a girls night in with 4-year-old daughter Stella — husband Dean McDermott spent the evening in son Liam's room — Spelling woke to find herself surrounded by "massive" amounts of blood — her third big bleed during the pregnancy.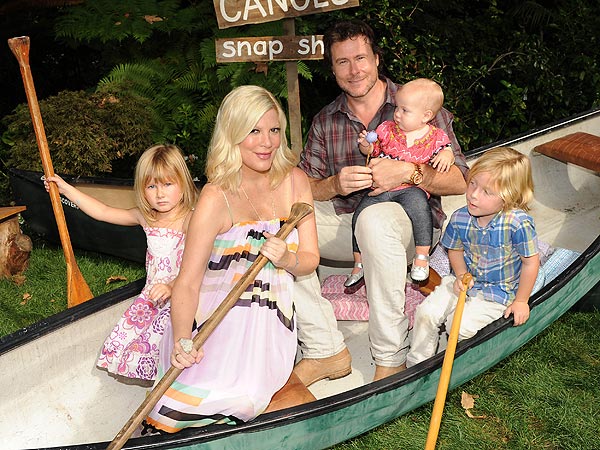 Michael Simon/Startraks
"I stumbled to the bathroom, dizzy from losing so much blood. When I got there, I thought, 'This is it,'" the actress told PEOPLE during the launch of Little Maven for JCPenney on Thursday in Los Angeles. "There was so much blood I thought, 'I'm dying. Not just [losing] the baby, but I'm dying.'"
The only one close by to call to for help was Stella — and to this day the proud mama credits her daughter with saving her life.
"I had to scream for Stella and I'll never forget the look on her face when she saw me surrounded by blood everywhere. I didn't want to panic her and I said, 'Baby, will you go get Daddy? Just tell him I'm bleeding,'" Spelling recalls.
"Her eyes were as big as saucers and — this is going to make me cry — she looked like such a little toddler warrior. She said, 'Okay, Mama' and she ran. And two seconds later Dean came in and basically had to wrap me up to get me to the hospital."
Once admitted, the nightmare continued; With surgery possibly being required to stop the bleeding, doctors told Spelling that her unborn baby was not old enough to survive outside the womb.
"[The doctor] said, 'I have to tell you that at 20 weeks, the baby is not viable. If we have to operate right now, I have to save your life,'" she says of the "darkest day" of the ordeal. "And then it just hit me and I was like, 'Oh my God, not only am I going to lose my baby, but I can't leave my three babies at home — the ones who are already here.'"
Although doctors were able to stop the bleeding, they delivered more shocking news: Spelling was informed that she was to remain in the hospital for 10 weeks and spend months on bed rest.
"My condition was so dangerous that I couldn't even walk across my room; I had to lie flat," she says. "I was lucky on days that I had bathroom privileges. But I committed. I was like, 'I'm going to get this baby to a healthy point and we're going to be a family.' I would rub my belly and talk to [the baby]. I kept telling him, 'We're going to be fine' and 'I can't wait to hold you.'"
Calling the sudden orders to remain in bed "life-changing," Spelling settled in to a seemingly quiet routine the best way she knew how — by designing a new collection and planning her daughter's birthday party.
And while she shared the major milestones on her blog, Spelling kept her pregnancy complications — including her hospital stay — under wraps.
"It was hard because [blogging is] such a personal thing and I'm so open with everybody. I'm writing about Stella's fourth birthday, but no one knows that I'm in a hospital bed," she explains.
"I planned the whole thing, but I [was] on Face Time and not actually there. Those were things I couldn't share, so it just felt like this big secret lie that I was keeping from everyone."
After weeks of laying low, a healthy Finn was delivered on Aug. 30 at 37 weeks. Just two weeks later on Sept. 15, the stitches from Spelling's c-section burst open and she was once again rushed to the hospital. "My intestines actually came out," she says. "I was like, 'Man, I'm being tested right now.'"
Months later, Stella still recalls the day she came to Spelling's rescue. "She never forgets that. She says to me all the time, 'Mama, do you remember that day when we woke up and you were bleeding?'" the reality star says. "And I [say], 'I do remember that day because you saved me.' I hope it won't stick with her in a scarring way."
Finally back home with her family — which includes her eldest son, 5½, and daughter Hattie, 1 — Spelling is basking in the joy of her baby boy.
"It's [been] almost six weeks and he's smiling and grasping," the new mama reveals. "I just look at [Finn] and I'm like, 'I hope you don't ever want to go to camp or college because I'm not letting you go! Or you're going to take me with you.' I don't want to be apart from him."
— Aili Nahas