Josie Maran's Blog: Work/Life Balance – For Me and My Company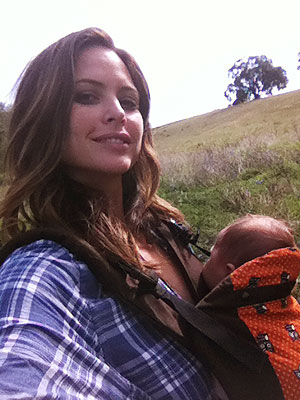 Outdoors with Indi Joon – Courtesy Josie Maran
Our blogger Josie Maran is now a mama twice over! The face of Maybelline for years, the model, 34, has also dabbled in acting, appearing in Van Helsing, and reality TV, where she took a spin on Dancing with the Stars.
In 2007, Maran established Josie Maran Cosmetics, her own natural product line. Since the launch, the Argan oil-based skincare and cosmetics have been the recipient of various industry awards.
Having welcomed her second daughter on July 1, Maran resides in Pennsylvania and California with her husband, Ali Alborzi, 6-year-old Rumi Joon and 3-month-old Indi Joon.
You can find her on Facebook and on Twitter @josie_maran.

Hello there, my PEOPLE peeps.
After a long, hot, beautiful and productive (see Indi Joon, below) summer in Pennsylvania, I'm glad to be back at work, flying between L.A. and the farm with my husband Ali and our daughter Rumi, with Indi in my arms.
Not just my arms, actually. Now that I'm back in the office, Indi Joon is surrounded by her JMC aunties and uncles, all of them begging to hold her. Workplace conversations lately tend to revolve around questions like, "Did someone go poopie?" and "Where's the binkie?" The soundtrack for our workdays is a sweet mix of cooing and laughter.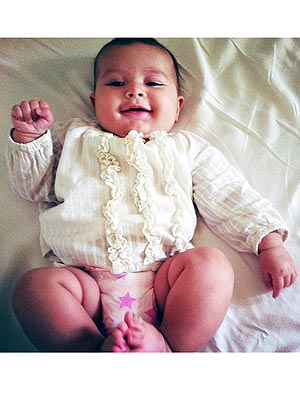 Indi Joon at 3 months – Courtesy Josie Maran
Believe me, I know how incredibly lucky I am, in so many ways. Unlike lots of working moms, I have a loving office environment and coworkers who are cool with me breastfeeding during meetings. I have someone to care for Indi on days when Ali and I need to devote all our attention to work. I always say that it takes a village to raise a child, and I'm blessed with a huge, loving village of helpers — friends, family, coworkers and now a nanny.
Despite my insanely good fortune, I still struggle to find balance between motherhood and career, home and work. As founder and Chief Eco Officer, I'm not just figuring out the balance for myself; I'm figuring it out for my company. We have lots of parents at JMC. Our VP of Product Development gave birth shortly after I did. Our VP of Marketing has two young kids, and so do several other JMC moms and dads.
I want to make sure that my company supports parents in both of their roles: as genius businesspeople and as nurturing moms and dads. So I've been thinking about how I can make JMC more supportive than a conventional work environment, without compromising the business that supports all of our families.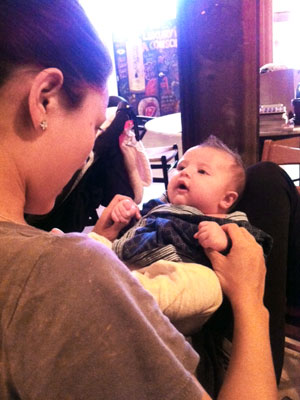 At the office – Courtesy Josie Maran
To see how I could make life a little more child-friendly for my employees, I did some research and found out that the U.S. Department of Labor requires employers to provide a safe and private location and compensated breaks for employees to pump breast milk.
That's great, but I also learned that the State of California is one of few states in the U.S. that provides paid maternity leave. And the U.S. is one of the only developed countries in the world that provides no paid maternity leave. So what's the deal? Shouldn't we be doing more?
The decision to come back to work when Indi was only two months old was mine. I know I can bring her to work with me whenever I want to, and I have the means to provide her with wonderful care when I need to devote a day to my business.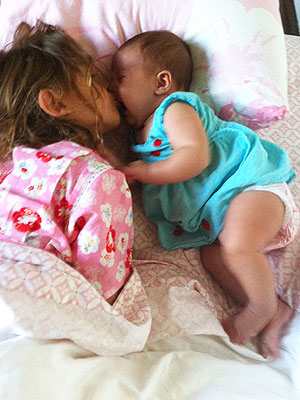 Sister kisses – Courtesy Josie Maran
But what about all the moms who don't have resources like mine? Motherhood is one of the world's most important jobs. Shouldn't we make it easier for women to be everything they want to be — mothers, professionals, superheroes?
I don't always succeed, but I try to do what Ghandi suggested: "Be the change you want to see in the world." For starters, I'm focusing on making life easier for the moms and dads who work at JMC.
I want my company to be a safe and loving environment for parents and their children, where kids can come to work if their parents are in a bind, and where moms and dads feel like they can always put their children first, even if it means missing some work. Where it goes from here, I'm still figuring out. But I know I want to do more to help children and their parents be all they can be.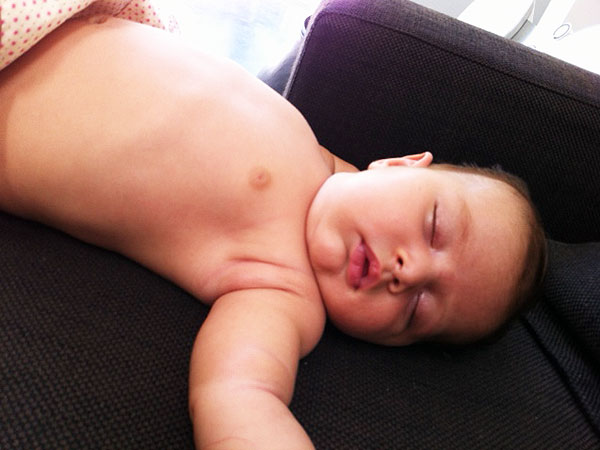 Working is exhausting! – Courtesy Josie Maran
With love,
— Josie Maran, Mama/CEO
P.S. Do you work for a great parent-friendly company? I'd love to hear your suggestions about what steps employers can take to support the mommies and daddies that work with them.