Kristin Cavallari: Motherhood Has Felt 'Very Natural'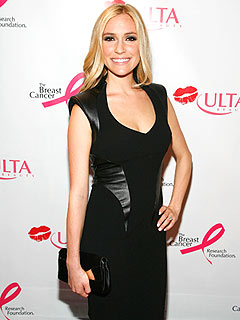 Janet Mayer/Splash News Online
She prepared for the worst, hoped for the best and — with a little luck — Kristin Cavallari's new life with her baby boy has been a breeze.
"I set myself up for postpartum to be incredibly difficult and thought I would be walking around like a zombie," the new mom tells Parenting.
But after welcoming son Camden Jack in August, the high of first-time motherhood kicked in full force.
"I actually had this adrenaline the first few weeks, which made me not need much sleep," Cavallari, 25, says. "Every time I tried to nap during the day I wasn't able to."

Expecting to be "a little more neurotic and worrisome" when it came to her son with fiancé Jay Cutler, Cavallari — who admits motherhood has "felt very natural to me" — has had no trouble slipping into her latest role, despite the serious lack of shuteye.
"You just have to go into it knowing you won't be getting much sleep and there will be hard times, but try to get help from family and friends," she explains. "Don't plan on doing anything else those first few weeks."
Not to worry, adds the proud new mama, before long all the hard work pays off — in a big way. "It's all worth it. When you get that first smile from your baby, your heart will melt and you'll say that you would do it all again," Cavallari shares.
Despite her seemingly easy start with her son, the reality star couldn't help but fret over her first time flying with Camden. Fortunately, she reveals, her worries were quickly washed away.
"I was nervous before the first flight I took with him," Cavallari says, adding baby boy proved to be a pro. "It's best if you can travel when you know they'll be sleeping. It also helps their ears to nurse or give a pacifier during take off and landing."
For more from Kristin on breastfeeding and baby weight, visit Parenting.com.
— Anya Leon