Elisabeth Röhm's Blog: My Special Summer with Easton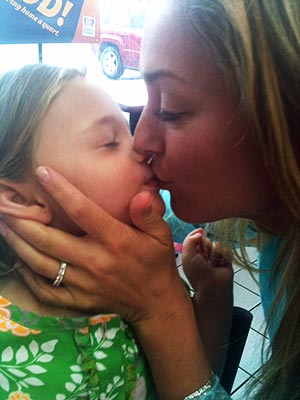 Sealed with a kiss – Courtesy Elisabeth Röhm
Elisabeth Röhm, best known for her roles as Serena on Law & Order and Kate on Angel, has been blogging for PEOPLE.com for over a year now.
The actress, 39, currently stars as Taylor on The Client List, while her film Officer Down is out later this year.
Her book, Object of My Conception: A Journey to Motherhood Through IVF, will be released by Da Capo in April.
She can be found on Facebook, Google + and @ElisabethRohm.
In her latest blog, Röhm — mom to 4-year-old Easton August with fiancé Ron Anthony — reminisces about her mother-daughter summer spent soaking up one-on-one time with her girl.

Did you do anything special with your children this summer?

Hello PEOPLE.com,
I've been missing you these days while we had our wild Indian summer adventures! I'm dying to hear all about yours.
Last we spoke I was moving houses and struggling with discipline — still entrenched with both of those tasks. But bigger and better things have been happening that I can't wait to share.
Easton and I have had a lost summer! It's been so unusual for us to spend time with each other for months on end, without Dad. We took several trips by ourselves: road, air and otherwise.
As we would take off on our adventure at hand it would remind me of the many trips I'd get to take with my dad when we would go on a holiday together after he and my mother divorced.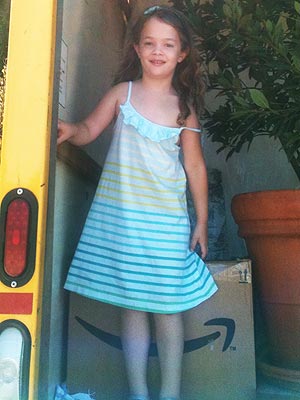 Packing up the moving truck – Courtesy Elisabeth Röhm
Those trips are burned in my memory as times I really got to know my father and he got to know me. We went to Japan, Russia, Norway, Denmark, Germany … I'd tag along on his business trips for a week or so and my world multiplied and became bigger and brighter as he'd include me on his quest to do his work.
Maybe that's where my wanderlust was birthed that has been the wind beneath my feet as an actor. I love to take off.
Well, Easton and I've had a whirlwind of a summer together what with moving houses and our many sojourns out of LALA land!
Ron has opened a restaurant here in Santa Monica called REJUICE and it has been eating up his hours, most especially during the summer because it opened in July.
So Easton and I have been on our own, taking care of each other and having some unbridled GIRL TIME! Endless manicures, professional haircuts, movies, hikes, afternoon swims and tons of social lunches and dinners. We were busy!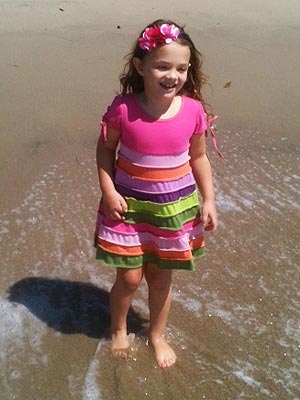 At the beach – Courtesy Elisabeth Röhm
We might have seen Ron for dinner and breakfast here and there but mostly it's been us girls just floating through a string of summer events, play dates and trips. It's been very sweet indeed, although exhausting too. Makes me think of my single mother — who was doing all of the parenting on her own — with such gratitude.
We have a bond from this solo summer that's going to stay with us forever I'd imagine (like my mother and I did because it was always me and Mom on our own).
And yet what do they say, familiarity breeds bickering? Or something like that! Well, it may have been the endless summer of love but a new level of mom/daughter drama occurred as well.
It gave me hives just thinking of the years to come. Oh, she's going to be a willful one. That I know for sure! That's a whole other blog … mom and daughter fighting. What's that all about?
Oh, it made me lament all the torture I put upon my mother. As if we moms are responsible for everything: their every mood, whim and disappointment.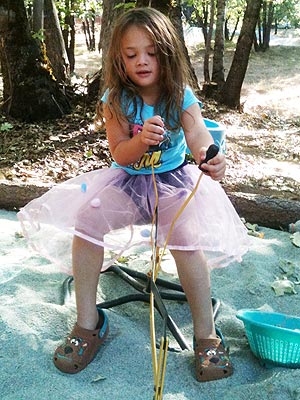 Digging in – Courtesy Elisabeth Röhm
With all the change we experienced this summer I surely did catch my first glimpse of this! I'm not too psyched about it, to tell you the truth!
So by the time September rolled around I was like, "How come her school starts September 10th and not September 1st?" Kind of like those last weeks of pregnancy when you're ready to give birth already! I'm sure you relate.
I had a tear in one eye as she ran off in her new uniform to play with her school friends! Oh, and also there was a new school to add into the mix. Waving with a bit of sadness and yet … freedom.
You mean I can finally exercise?
Yes, I put on all that summer weight too! That's been fun! No time to do anything for Mommy, but we were an unbreakable and dynamic duo! And it was blissful … most of the time.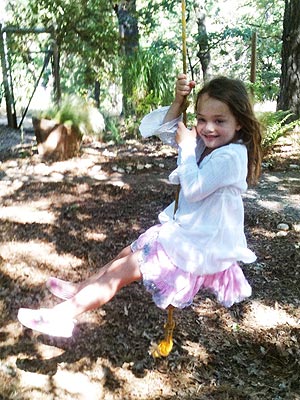 On the farm – Courtesy Elisabeth Röhm
In August Easton and I went to Northern California for about a month where I was shooting a movie. It was the first time she went on location with me where Daddy didn't come along to lend a hand.
So we had to really band together, "us girls" and make sure that all of Easton's needs were met and that she was getting enough parental attention. My Aunt Nancy came and hung out with us for a portion of the trip and we really got some great family time in!
We were shooting on a 1000 acre property so the kids could run free and be outside all day like wild heathens, sweaty and dirty from romping in gardens and trying to commune with the deer.
She was safe, unlike her experience at home in L.A. where every move she makes is taut with city tension. She even made some new friends she's been missing and Skyping with since we've returned to Venice Beach.
There were animals on the farm and it seemed as if every species was giving birth! Baby goats, chickens, cows, deer, and tons of bird nests teaming with hungry mouths.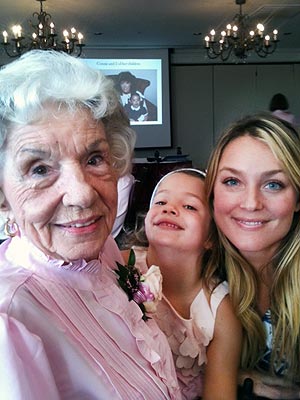 Aunt Evy, Easton and me – Courtesy Elisabeth Röhm
It was a thing of beauty and Easton really blossomed within all of that nature. She even got to herd some goats one crisp morning. It was splendor in the grass up on the farm!
After we came home for a month where more of the same hanging, playing, lounging summer fun happened, we flew to Tampa to see my great-aunt for her 90th birthday. Easton got to meet 40-some odd relatives she'd not yet met.
Talk about the summer where she grew up. She met her extended family too! It was very exciting and especially the relationship between her and her great-great Aunt Evy made Easton stand a few inches taller; confident from all the new relationships she made over the summer.
There was deepening of familial relationships and friendships that brought out the little girl; no longer a baby.
Oh, and last but certainly not least — my parents finally did move to California, all the way from N.Y.C. So there were visits with her grandparents and her Aunt Olivia and Uncle Lucas.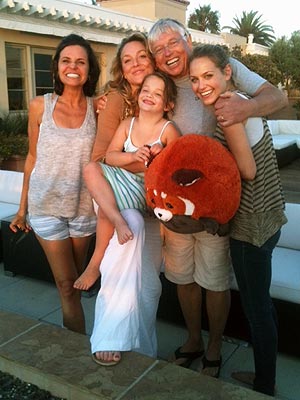 With Dad and family – Courtesy Elisabeth Röhm
So much happened to us this summer, ladies.
Catch me up on all your adventures!
Here's to a very busy and exciting fall together … can't wait to keep our discussions going.
Let me know what's on your mind and we'll start there!
Until next time…
– Elisabeth Röhm