Solange: I'm a Hot Mess During School Runs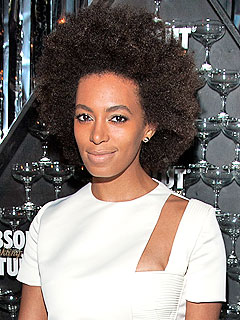 Dave Kotinsky/Getty
From her quirky mixed print ensembles to her fun hairstyles, Solange is all about style and beauty evolution.
But that doesn't mean she puts fashion before motherhood. Despite her love of it all, the mom-of-one doesn't drop everything for Fashion Week.
"It's during the same week that my son starts school every year, so I can't juggle with two that well," Solange, 26, tells PEOPLE at the Absolut Tune launch event in New York City.
However, the singer can't help but admire her fellow fashionistas (and moms!) who manage to effortlessly balance both their kids and their careers — and still step out looking glamorous for morning school runs.

"My son [Daniel Julez] goes to a public school in Brooklyn, but I see a lot of women who work in fashion and work at Vogue. In the morning they're ready to go and drop their kids off and go to shows after," she says.
"No way on earth — I look a hot funky mess. Every morning at school whenever I see magazines doing mom style with Sarah Jessica Parker and Claudia Schiffer, I'm like, 'Please, don't ever take a picture of me in the morning. It's not cute.'"
— Anya Leon with reporting by Carlos Greer