Giuliana Rancic: Why I Love Changing Dirty Diapers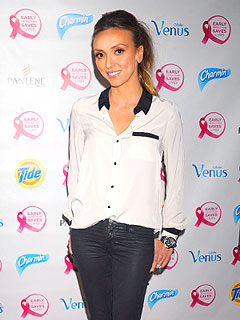 Brock Miller/Splash News Online
Since the arrival of her first child, Giuliana Rancic has been soaking up every second with her son — right down to Edward Duke's dirty diapers.
"This is so gross, but I love when he poops. They make these noises and I'm always like, 'Bill, here he goes. Tape this, tape this!' And he's like, 'Must we tape this?'" the new mom tells PEOPLE.
"It's such a good feeling because it shows that he's healthy and he's regular and things are looking good."
To that end, Rancic considers each diaper change a reason to celebrate. "I love changing poopy diapers. When I open a diaper and it's poopy, I'm like, 'Yes, score!'" she says.

The couple welcomed their baby boy via a gestational surrogate on Aug. 29 and were thrilled to each play a big part in the delivery process. "Being in the delivery room was pretty incredible," she recalls.
"When he came out and we saw him for the first time  it was just tears of joy all around. Bill had the very important job of cutting his umbilical cord — and banking his cord blood — and I got to hold him first to do skin to skin."
After announcing they would be steering clear of unusual monikers, the couple blended both a family name with an all-time favorite when it came to naming their newborn.
"Edward is Bill's late father's name and Eduardo is my father's name," Rancic, 37, shares, adding her husband refers to their new little one as The Duke. "We've always loved the name Duke. We thought it was a really strong name, it means leader and I have a feeling he's going to be the leader of our family!"
As the proud parents settle into life with Duke — who inherited Giuliana's dimples and Bill's nose and coloring, according to the new mama — the E! host admits not everything has been what she expected.
"The one thing I never thought I'd do is when I'm doing a live interview, looking at the camera and saying, 'Hi Duke,' and waving to my child," she admits.
"Okay, people do that all the time on the red carpet when I'm interviewing them at the Emmys or at the Oscars and I'm always like, 'Really?' And now I've done it twice today!"
— Anya Leon