Julie Andrews Talks Kids, Grandkids and Her New Children's Poetry Book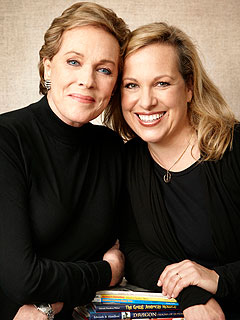 Richard Phibbs
One of Julie Andrews's favorite childhood memories is of her father reading to her when she was a young girl growing up in England.
"My father had a lovely way of reading," recalls the iconic star of Mary Poppins and The Sound of Music. "He had a very nice voice, and he really made sure I understood the words. What was so endearing is that he suddenly became rather formal when he read, and I so enjoyed watching him do it properly for me."
Now the 77-year-old screen legend is passing on that passion for books to her own eight grandchildren and three great-grandchildren. Andrews and her daughter Emma Walton Hamilton, 49, teamed to produce a new children's poetry anthology, Julie Andrews' Treasury for All Seasons: Poems and Songs to Celebrate the Year.

The book — which features kid-friendly poems from Robert Frost, Dr. Seuss, Walt Whitman and Jack Prelutsky, among others — is the 22nd children's book collaboration between Andrews and Hamilton. Both mother and daughter encourage parents to read aloud to their children.
"Those are the memories that will last a lifetime," says Emma. "Mom carried on that tradition with us, and I continue to carry it on with my children. Reading equals love."
— Michelle Tauber