So You Think You Can Dance Choreographers 'So Scared' to Bring Baby Home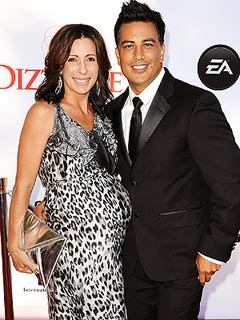 Jason LaVeris/FilmMagic
Napoleon and Tabitha D'umo have choreographed for Madonna, Jennifer Lopez and Christina Aguilera, but now the couple has embarked on a new collaboration: parenting.
"The first week we were so scared," Tabitha tells PEOPLE of bringing home baby boy London Riley in mid-August. "You have this little person in front of you and you question everything you do."
The American Idol and America's Next Best Dance Crew choreographers are learning to trust their instincts as new parents despite their shaky start; Napoleon admits he once ran to the computer at every sneeze or cough.
"I was a wreck. I was on Google every day," Napoleon, 43, says. "I would get worried and then I would find out I was the only dad on the dang message boards and I would be embarrassed."
Now feeling more confident, the proud parents have returned to work choreographing for the recent So You Think You Can Dance finale and have television show and music video shoots scheduled in the coming weeks.
"Every rehearsal, when we leave him, I tear up a bit in the car," admits Tabitha, 39, who "bawled" the first time she held her baby boy. "But it is new. I'll get better."
And the couple is finding ways to bring 7-week-old London to work with them as well.
"We have little noise-canceling headphones that we put on him and they look really cool," Napoleon says. "He doesn't hear any of the noises and sleeps right through while we are choreographing."
Not that the newborn doesn't already share his parent's love of music. "He's been around it since he was in the womb. For some reason when we put on Aerosmith he loved it," says Tabitha, who credits her time on set with former Idol judge Steven Tyler for London's preference.
"When we put it on he would quiet down. I was, like, 'Nice!'"
Tabitha's active lifestyle has gotten her back in shape quickly after giving birth, with her husband saying she looks "amazing" — but the new mom believes certain post-pregnancy assets are clouding his judgment.
"My husband is very excited about me right now," she says. "Me and my breastfeeding boobs."
— Patrick Gomez