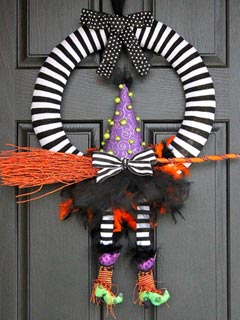 Courtesy Craft Sisters
Along with raising their families, Crafty Sisters Candace Palfreyman and Nicole Cornaby keep themselves busy with their various art projects, especially around the holiday season. Which is why we asked the crafty duo to share their fave Halloween ideas from their cute blog.
From a witch wreath to a haunted village, thank goodness their spooky D.I.Y. projects didn't disappoint.
VIEW THE GALLERY: 9 Halloween Crafts the Whole Family Will Howl Over