Alicia Silverstone: My Son Loves Shoes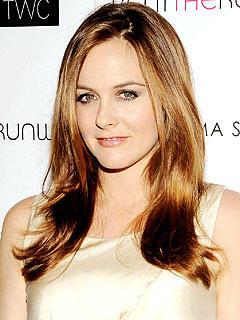 Nicholas Hunt/PatrickMcMullan/Sipa
Forget about stuffed animals or toy trains. Alicia Silverstone's 17-month-old son Bear Blu is all about his footwear.
"He loves his shoes!" Silverstone, 35, tells PEOPLE at the Cinema Society and DKNY screening of her new film Butter in New York City Thursday. "He loves all shoes. My shoes, my husband's shoes and his shoes."
So what sparked this mini fascination?
"If you say 'shoes' to him he gets excited because that means he gets to go out to the park," says the Clueless star.
"The park is his favorite place in the world. He acts like he's king of the park. He gets crowds to come around him and he dances and plays along with the drummers and the musicians."

Besides loving the outdoors, Silverstone's little tot is also experiencing the joys of talking.
"He's really into words right now," says the actress, who is currently starring in Vamps. "He says 'baby' to everything and he says 'Mommy' and 'Daddy' all the time but I don't think he knows which one is which. Some days I'm Mommy and some other days I'm Daddy too."
But there's another word Bear loves to babble that causes his mom to get a case of the giggles.
"He's been saying the word 'holla' which means helicopter," she says. "First I thought, 'Why is he saying "holla" like he's so cool?' but I found out he's using that word as helicopter."
– Paul Chi