Drew Lachey: Why My Family Left Los Angeles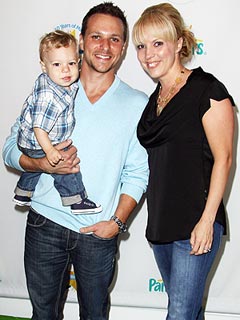 Baby As Art
It's been six years since Drew Lachey shimmied his way to the top, but the singer has returned to the Dancing With the Stars stage — this time with a much larger fan following.
After being supported by his then-pregnant wife Lea when he snagged the coveted mirror ball trophy in 2006, Lachey's cheering squad has since grown to include Isabella Claire, 6, and Hudson Nicholas, 2.
In order to stay together as a family, the foursome has temporarily relocated from Cincinnati to Los Angeles.
"I just can't be away from my family for that long. I spend all day, every day pretty much with my kids," Lachey tells WonderWall. "If I'm rehearsing, that's one thing, but what do I do for the other 16 hours of the day?"

In fact, adds the proud papa, having his kids close will help him concentrate on his fancy footwork. "I wouldn't be able to focus on what I'm trying to do with the show if I'm worrying about what's going on back home," he explains. "It's just one more adventure for the Lachey family!"
Making the move to California isn't completely foreign to the couple; Shortly after welcoming their daughter the new parents packed their bags and left the L.A. scene for a more family-friendly environment.
"[Isabella] was growing up and we saw the lifestyle that a lot of people had out in L.A. Cincinnati allows us to keep her innocent just a little bit longer," Lachey, 36, explains.
"The decision to move back to Cincinnati — and away from the industry that I work in and a lot of our friends — was by far one of the best decisions we ever made in our lives. If we're able to give our daughter and our son even five more minutes of innocence, then the move was all worth it."
Fortunately, their return coincided with the birth of brother Nick Lachey and wife Vanessa's baby boy, Camden John.
"[Isabella's] excited because she's gonna get to meet her new cousin right away and see some of her friends," reveals Lachey. "She's excited to be able to see [the show] and see me do it live and be there and get dressed up in a fancy dress."
And if his little girl is basking in the surf and sand and enjoying life on the West coast, Lachey shares, there's no doubt her little "ball of energy" brother will be sure to follow suit.
"She enjoys the fact that he wants to do whatever she's doing and that she needs to lead by example. If she does something wrong, we tell her, 'Don't do that because he's going to learn,'" the father-of-two says.
"Then when he does it, she's like, 'I'm sorry, Dad, he learned that from me.' She just loves the fact that she has that much power and influence over him."
— Anya Leon with reporting by Jessica Wedemeyer