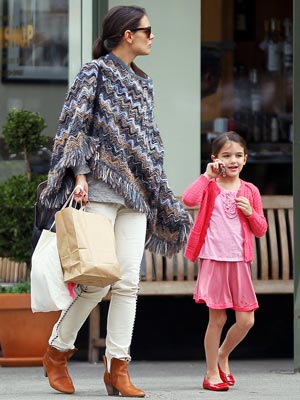 PPNY/GSNY/Splash News Online
Walk and talk!
With ex-husband Tom Cruise moving forward, Katie Holmes and her chatty little girl Suri, 6, continue keeping close company after grabbing a bite Wednesday in New York City.
While the mother daughter duo are settling into their new hometown routine, Cruise — who is filming All You Need Is Kill overseas — has been missing Suri, a source recently told PEOPLE.
"Tom talks to Suri several times a day. [Tom and Suri] are very, very close," the source says. "He's up on everything that's going on in her life."
RELATED: Tom Cruise's New Life: He's Moving On, but Missing Suri