Matt Damon: How I Get My Kids to Eat Their Vegetables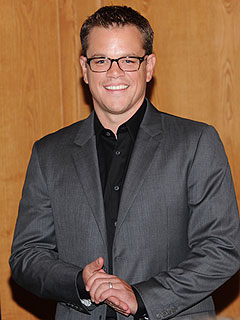 Evan Agostini/Invision/AP
When it comes to cooking, Matt Damon admits he's no master chef. But he has discovered the secret to getting his kids to eat their vegetables.
"I'm a terrible cook, but I do a little bit of it at home," Damon, 41, tells PEOPLE at New York's Cooking Live fundraiser, held Tuesday and benefiting the Family Reach Foundation. "I'm relegated to kids' fare and I can make more of the functional stuff."
Case in point? A favorite dish the Elysium actor frequently makes for daughters Isabella, 6, Gia, 4, and Stella, 23 months, as well as Alexia, 14, only contains three ingredients.
"I cook pasta with butter and steam broccoli," says Damon. "It's all about getting enough healthy food in front of them every three hours."

The trick to vegetables, the Oscar winner says, is that "it's all about starting early."
"My wife [Luciana] and I introduced it to them at a very young age and they just don't know any different," he admits. "Luckily, I found out all three of my youngest girls love broccoli. There are times where I can't get them to eat protein or a little piece of fish because they are going crazy over the broccoli. Sometimes they're the ones bribing me to eat more of my vegetables."
Especially when it's Brussels sprouts being served — Damon doesn't like the taste.
"That was always a tough one for me — and I was never crazy about cauliflower either," he shares. "But I grew up eating a lot of salad. My mother made a salad with every single meal we had, so I was raised thinking that's how you eat. It's a good balance that I'm trying to teach to my own kids."
— Paul Chi