Ricki Lake: I Can Do Anything After Giving Birth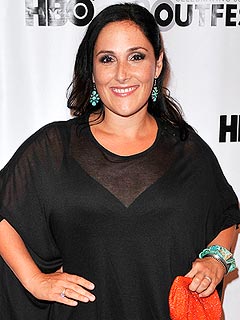 Mark Savage/Startraks
Her babies have turned into big boys — Milo is 15 and Owen is 11 — but Ricki Lake is still reaping the benefits of giving birth.
"That high is something I will never forget. The feeling that, 'If I can do this, I can do anything,' has stayed with me through the years," The Ricki Lake Show host, 44, tells Scholastic Parent & Child in their October issue.
"I've gotten through a really difficult divorce, I've taken all these steps in my career, and I did Dancing with the Stars, which was one of the toughest things I've ever done!"
According to Lake — who went on to film The Business of Being Born, a documentary on natural childbirth — witnessing her body perform after being pushed to its limits was a journey she is forever grateful to have taken.

"Truly, you feel empowered and strong. It's a gift," she says. "It's a gift I was able to give to myself and to my little boy who feels very special that he was brought into the world the way he was."
Nearly eight years ago, her newfound strength was a necessity; The mother-of-two packed her bags — and her boys — and moved across the country.
"After living through Sept. 11 in Manhattan and having two small children — my kids were 6 and 2 in 2004 — I really felt like I needed to change things up for my mental health," she explains.
"I ended my marriage and my talk show and in many ways, I started over. It was a real turning point."
Eventually Lake met and married husband Christian Evans — the two tied the knot in April — and the foursome have had no trouble settling in together as a family.
"My kids love him. He is an angel that has come into our lives, not just for me in that I've found this beautiful partner, but also as an amazing role model for my sons," she explains, adding her three main men "get along beautifully."
Now with her fresh start, Lake — who returns to television with her new talk show premiering Sept. 10 — is soaking up all the special time she spends with her sons. "I still read with my 11-year-old — I love it," she shares.
"It's late at night when he's going to bed and unfortunately I only get through a few pages before he's snoring on my shoulder, but it is that quiet time that I really love, and I feel like he is still a baby to me."
But while he may still feel like her baby boy, Lake is determined Owen — and his brother — learn the ways of the world and the benefits of giving back to others.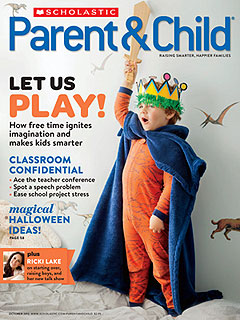 Courtesy Scholastic Parent and Child
"I want them to be in touch with the real world and to be able to see themselves as just two of the billions of people on this planet," Lake explains.
Over the summer her sons traveled to Malawi where they helped in building a house for a family in need — and the proud mama says the time spent overseas was well worth it.
"Volunteer work is incredible for kids who are growing up rather privileged and need to really get a sense of the world, the big picture," Lake says.
"Their trip to Africa changed something inside them forever; and they will always carry that experience."
— Anya Leon