Jillian Michaels: Having Two Kids Is Chaotic – but Magical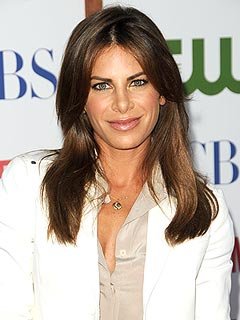 Tina Kaawaloa/INF
As any viewer of The Biggest Loser knows, Jillian Michaels is a stickler for hard work and discipline, but no amount of preparation could have gotten her ready for life as a mother – especially after welcoming son Phoenix — whom partner Heidi Rhoades delivered — and daughter Lukensia — via adoption — in the same month.
"It's been hectic, chaotic, confrontational – all the things you imagine it would be," she tells PEOPLE, "but it's also been magical, meaningful, and rewarding."
One such instance has been incorporating her children into every aspect of her lifestyle, including her commitment to fitness.
"I like to take Phoenix hiking in a Björn, or Lu for a bike ride in the sidecar or out with me on the paddle board," Michaels, 38, says.

"I take them for jogs with my jogging stroller, and we love to play on the beach. I do everything I can to be active with my kids."
Lu, 2½, and Phoenix, 4 months, also regularly accompany mom on her work trips, such as this weekend's Sweat AC festival in Atlantic City, N.J., where the trainer will be teaching an "Extreme Makeover Workout" class.
"I hate being away from them, especially overnight," says Michaels, whose Bodyshred line of classes will now be taught at Crunch gyms. "We travel as a little brood and the new executive producer on The Biggest Loser is a woman, so she is particularly sympathetic and very open to the kids being on set."
But before embarking on a new season, the new mom is happy to simply relish in her children's growth.
"Lu is having a 'language explosion,' as her preschool teachers like to say," Michaels says. "It's so cool to listen to her express herself, tell us what she wants, how she's feeling, what's on her mind."
"Phoenix is super aware, babbling constantly," she continues. "He is able to sit up, roll over, hold his bottle. It's so amazing watching him gain control of his body and seeing how proud he is about it."
— Kiran Hefa