Kristin Cavallari: My Labor Was Worth Every Minute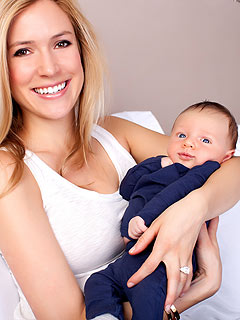 Jonathan Clay Harris
While her pregnancy may have been smooth sailing, labor was a whole new ball game for first-time mom Kristin Cavallari. (Yes ladies, she went for the epidural!)
Fiancé Jay Cutler was away at Chicago Bears training camp, prepping for the current football season when the former reality star woke up at 4 a.m. with what she thought were contractions.
"I texted Jay and he happened to be awake and he said, 'I'm coming home!'" she recalls.
After a call to her doctor, Cavallari, 25, deduced that it must have been false labor.
"We went for a walk and I could get through the pains," she explains. "I said, 'Ouch this really hurts,' but I was kind of laughing through them. My doctor was like, 'Trust me, you'll know when it's the real deal!'"

Later that day, she did. When Cutler, 29, returned from football practice that afternoon, Cavallari was ready to head to the hospital. And after 10 hours of labor and 20 minutes of pushing, Camden Jack arrived at 2 a.m. on Aug. 8 — his due date.
"The pain was like nothing I've ever experienced," the new mom admits of her labor and delivery. "It was so painful but a different kind of pain — because I knew we were going to meet our son. It was worth every minute and I'll do it again."
For exclusive photos of Camden — plus details about Cavallari's life as a new mom and if more kids are in their future — pick up this week's issue of PEOPLE, on newsstands Friday.
— Jennifer Garcia