Martha Stewart Hosts Granddaughter Jude's First Birthday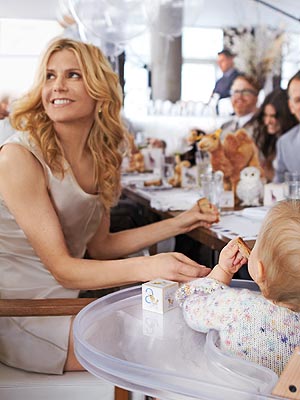 Francesco Lagnese/Martha Stewart Living
Who better than to throw the perfect party than Martha Stewart?
In March, the doting grandma put her superb taste to the test as the host of her granddaughter Jude's first birthday, held at Perry St. in Manhattan.
Owned by family friend Jean-Georges Vongerichten, the modern eatery set the scene for the whimsical celebration that toyed with a stuffed animal theme stretching from the adorable centerpieces to the personalized placemats.
Outfitted in a beige silk skirt and a gray jersey tank top, the birthday girl arrived with mom Alexis, who dressed the part in her own beige satin number.
"Mother and daughter beamed as they entered the restaurant and saw the decorations for the first time," Stewart recalls in the October issue of Martha Stewart Living.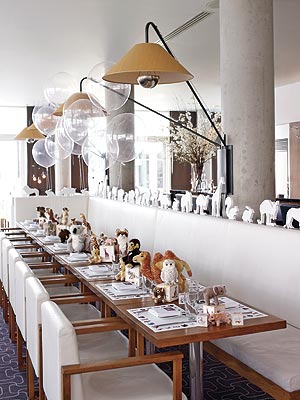 Francesco Lagnese/Martha Stewart Living
"Both clear and white balloons were inflated with helium, and they added a very festive but unobtrusive touch to the dining table and the dessert table."
Guests — who were all adults that played a major role in Jude's first year including the designer of her Arctic-themed nursery, her first photographer, and the co-author of Stewart's children's books — found their seats around the long row of tables that had been adorned with custom-made menus and embellished square pine blocks that served as name plates.
"We picked a theme — animals — and most everything was created around the idea with Steiff stuffed toys, wooden cut-outs, printed images and sculpted marzipan," Stewart shares.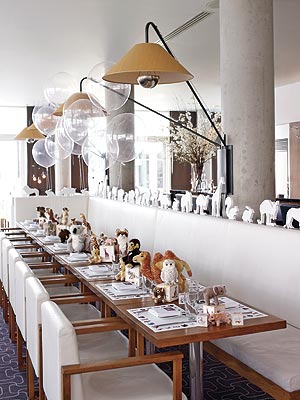 Francesco Lagnese/Martha Stewart Living
"We pushed all the tables-for-two together and created one long luncheon table. With the modern lamps overhead and clear balloons and cut-out animals, the party was beautifully framed and remained contained in that area."
For lunch, the group indulged in butternut squash soup with Mimolette cheese and pumpkin seeds, asparagus with mesclun, enoki mushrooms, avocado and black-truffle vinaigrette and ricotta ravioli with herbs and tomato sauce.
The focal point of the party proved to be the cake table, featuring three delicious masterpieces — a jungle-themed, a polar-themed and a woodland cake all topped off with handcrafted edible animals — encased under large glass domes and surrounded by more friendly stuffed critters.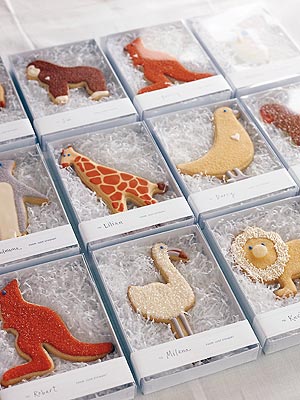 Francesco Lagnese/Martha Stewart Living
"Each slice of brown sugar layered cake was accompanied by a marzipan animal," Stewart says.
Before the afternoon wound down — the party was kept short for the sake of Jude's schedule — beautifully decorated animal sugar cookies from Sweet Dani B were handed out as party favors.
And although the chic birthday bash was a huge success, Stewart is already looking forward to next year.
"All we could think of was, 'What will we do next year?'" she says. "Keep in mind, [my grandson] Truman will be one two days before Jude will be two!"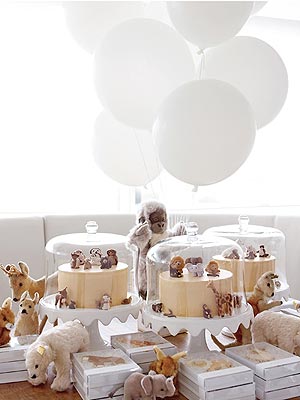 Francesco Lagnese/Martha Stewart Living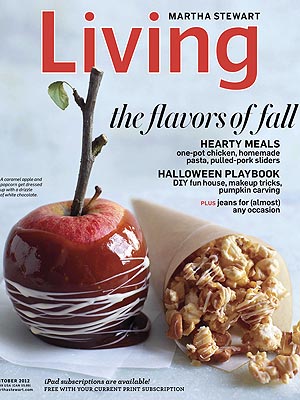 Francesco Lagnese/Martha Stewart Living
— Anya Leon