Marla Sokoloff's Blog: Back In My Jeans … Seven Months Later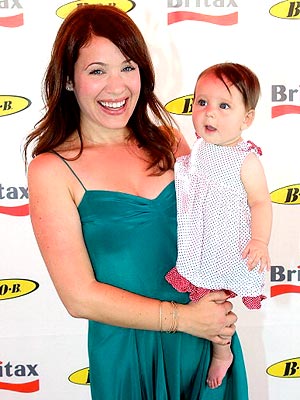 Elliotte's first red carpet – Rachel Murray/WireImage
Our celebrity blogger Marla Sokoloff is a new mama!
Since audiences first got to know her at age 12 as Gia on Full House, Sokoloff has had many memorable TV roles — Jody on Party of Five, Lucy on The Practice, Claire on Desperate Housewives – as well as turns on the big screen in Whatever It Takes, Dude, Where's My Car? and Sugar & Spice.
Sokoloff, 31, also sings and plays guitar and released an album, Grateful, in 2005.
She wed her husband, music composer Alec Puro, in November 2009 and the couple — plus pup Coco Puro — make their home in Los Angeles.
You can find Marla, now mom to 7-month-old daughter Elliotte Anne, on Twitter.

I just want to start this off by saying an enormous THANK YOU to each and every one of you that left a comment, tweeted, emailed or simply just read my previous blog entry.
Your overwhelming love and support meant more to me, Alec and Elliotte than you will ever know. Sharing our story was not only one of the scariest things I have ever done, but it was also shockingly cleansing for me. It felt oddly good to get all of the heartache out into the open and it made me feel even more proud to be little Elliotte's mommy.
As promised, I read every single comment (although it did take me a little longer than normal to read them as the tears would just not stop!) and I even got the chance to connect with some incredible CCAM families via my fancy new email address, marlasokblogATgmail.com.
Who knew that something so rare and isolating could bring so many of us together? I'm happy to say that my nightmare is over and the misery has now somehow morphed into this exceptional time in my life that I will certainly never forget.
We are less than two months post-op and Elliotte has left those old lung problems behind and has moved right on to more important things like … teething! She has two brand spanking new bottom teeth and a whole lot of drool to show for it!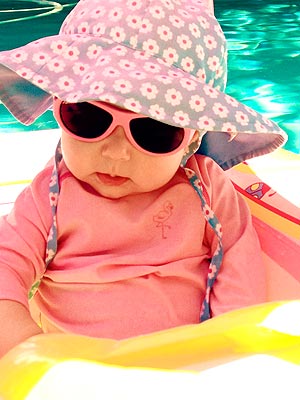 Pool time with my shady lady – Courtesy Marla Sokologg
So here I am seven months in … hearing that loving and understanding voice in my head say, "You just had a baby, Marla. It took nine months to put on, it may take nine months to come off."
Then I say, "No Miss Voice in My Head, I didn't just have a baby — that was seven months ago. Also — I live in Los Angeles remember? Women here wear short shorts and bikinis three weeks postpartum. That rule doesn't apply when you live in the judgiest place on earth!"
I went back to work 3½ months after giving birth. The shoot was local and the time commitment was short enough that it felt like I was just dipping my toe in the working mom pool.
I was very quickly reminded that my job as an actress is one that I truly love. I simply hated being away from my daughter, but I was relieved to find out that my passion for what I have done for the past 20 years was still intact.
I was less than relieved to find out that my hatred of the dreaded wardrobe fitting was also still intact with a whole new set of insecurities to boot. Not only was I trying on sizes I had never seen before, but also I was now venturing into the fun-filled world of girdle-style undergarments.
(Listen up ladies — Spanx on your wedding day is one thing, but a tummy-taming bodysuit starts to feel more like a straightjacket complete with broken ribs at the end of a 14-hour work day!)
I arrived on set armed with excitement but also an intense insecurity, as I felt this overwhelming need to tell every single solitary person who came within an inch of me that I had just had a baby. (At the time, "just had a baby" was still applicable.)
I hate that I was so hard on myself. I hate that I felt like people were judging me for having a few extra pounds on me. It wasn't until about halfway through the shoot that I had an epiphany. I have a daughter now. I can't be like this anymore. I need to set a good example and teach that baby girl as she grows up to love her body no matter what.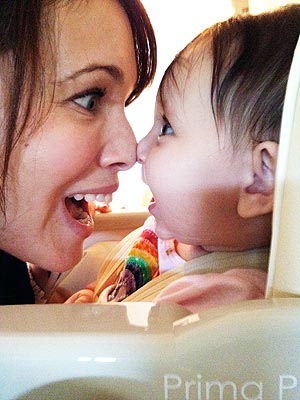 Silly faces with my girl – Courtesy Marla Sokoloff
I find it depressing that society puts so much focus on "body after baby." I realize that my writing this blog is doing just that, but in doing so I want to put the focus on the healthy role models that have inspired me and gotten me through the past few months.
Celebrity moms like Alyssa Milano, Hilary Duff, Jenna Fischer and Jessica Simpson who have made it known that they have really put the effort in to do it the healthy way. No diet pills, cayenne pepper cleanses, juice fasts or eating their baby's puréed food.
In fact, most of these moms have said that they would rather spend time with their little ones then sweat it out at the gym — a quality I personally find admirable!
Obviously, getting back to my fighting weight was not my primary focus these past few months. My only concern was my daughter and her health. Once her surgery was behind us, I really started to make the effort to put my health in the forefront.
I got back to working out and even started cooking again, which is an accomplishment in and of itself with a baby. (Just for going to the supermarket alone us moms deserve a medal!) I've decided that the slow cooker is my new best friend and welcome all recipes if you have any good ones!
I don't have a personal trainer or a fancy chef to make me healthy meals, so it's up to me to make the right choices and get my badonkadonk to the gym!
The truth is I have no idea how far away I am from my actual pre-baby weight as far as numbers go. I don't own a scale and I'm not going out of my way to find one!
I do know that as of last week, I'm officially back in my old jeans — which was so exciting I literally wanted to scream from the top of the tallest building to announce it. (I'm afraid of heights, so I tweeted my victory instead.)
I know by Hollywood standards, taking seven months to get back into my pre-pregnancy jeans is an abomination … but go easy on me, I just had a baby.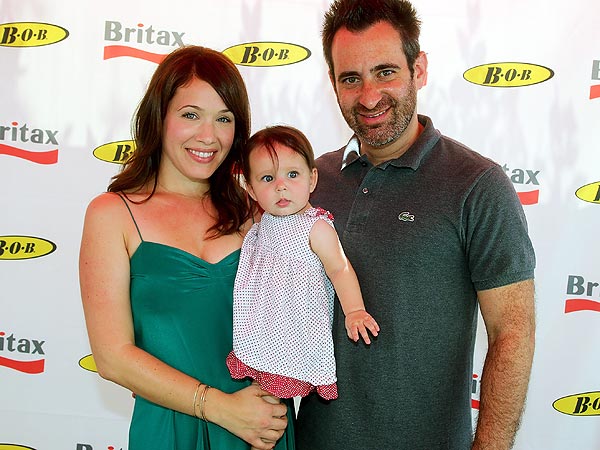 Red CARpet Safety Event with the family – Rachel Murray/WireImage
Until next time … xox
— Marla Sokoloff