Spotted: Pink and Willow – Beanie Babes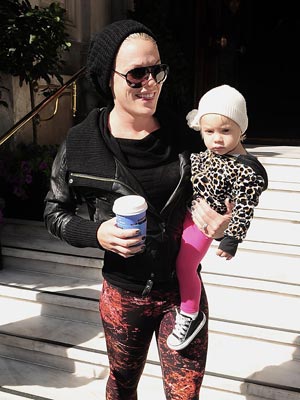 Xposure
Caps off to you!
Proud mom Pink and her stylish little girl Willow Sage, 15 months, keep warm in bold prints as they leave their London hotel on Thursday.
The singer-songwriter — who is a "perfectionist" when it comes to raising her baby girl with husband Carey Hart — recently told PEOPLE she was in no rush to shed the 55 lbs. she gained during her pregnancy.
"I love to feel fit. I love to feel healthy. I wasn't in a race," Pink, 33, said while showing off her svelte body after baby.
"I was really kind to myself because I was actually really impressed with the fact that I had just had a baby, like 'I made a human!'"
RELATED: Pink: How I Got My Body Back After Baby