Ben Affleck: 'I Don't Want to Be a Stay-at-Home Dad'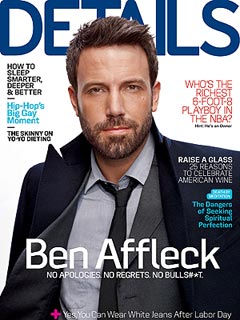 Mark Seliger/Details Magazine
He may want to expand his family with Jennifer Garner even further, but that doesn't mean that Ben Affleck is ready to cool down his career.
"I don't want to be a stay-at-home dad. Work is very important to me. I like to work. But I need my work to mean something to me in order for me to not be home with them," the actor, 40, tells Details' October issue.
Noting that "running after three kids is very trying," Affleck — who is dad to Violet, 6½, Seraphina, 3½, and Samuel, 6 months — admits his time away from his family is constantly competing with his work schedule.
"Anytime you think, 'I'm wasting my time here,' the first thought you have is, 'I could go home and be with my kids,'" he says. "Now, you may go home and be with your kids and very quickly start thinking, 'I wonder what's on the work front?'"
And although the doting dad makes an effort to find time for his children, when Affleck becomes wrapped up in filming — he directed and stars in his latest movie, Argo — he relies heavily on Garner to pick up the slack.
"I am not very present in the rest of my life. My wife's very patient. She does everything," he shares. "If I have time, I try to spend time with the kids, even if just to be a physical presence, the bath, whatever."
But even in the midst of his brood's bathtime, Affleck is the first to admit his mind is often elsewhere. "My mind's always going, 'How are we going to light that show tomorrow? What's the master shot for that scene? Is there even going to be a master?'" he says.
"Just ruminating endlessly. Because for me — I wish it was discipline or being a great artist. But it's just anxiety."
— Anya Leon