Angela Kinsey: I'm Grateful for My Late Nights with Isabel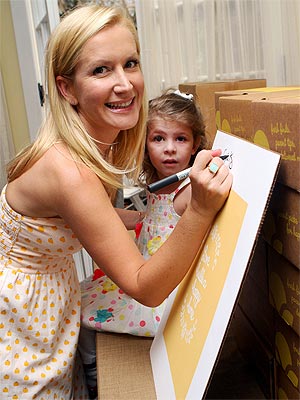 MOVI Inc.
All work and no play isn't in the cards for Angela Kinsey each day.
Instead, the single mom attempts to balance long hours on the set of The Office with spending late nights making memories with 4-year-old Isabel Ruby.
"There are days I'm tired at work because I chose to have a late night with Isabel and watch a movie just so we can have time together," the actress told PEOPLE during the unveiling of her new position as Citrus Lane's brand ambassador on Saturday in Los Angeles.
"And then I'm tired for that 5 a.m. call time, but I'm so glad I had that night with her."
But despite her best efforts, the working mom has yet to perfect the juggling act — and admits she most likely never will.
"Yesterday was my day off and I took a bunch of meetings and felt horrible that I wasn't the one who picked her up from school," Kinsey, 41, says. "I could have said no to the meeting, but I felt I needed to go to it."
When the "struggle" of it all gets to be too much, Kinsey finds a supportive shoulder — and fellow mom! — in costar Jenna Fischer, who welcomed son Weston last September.
"We totally are [good friends] and [compare notes] all the time. Jenna learned a little bit from my trial and error on set, too, and how to pump — we both breastfed," she says.
"I have three sisters and they're not in [L.A.] … so Jenna is that person for me that I call and say, 'Isabel had a tantrum, did I handle it the right way?' I need someone to bounce that off of."
— Anya Leon with reporting by Michelle Ward