Giveaway: A Celeb-Worthy New Baby Gift Set from Hollywood Baskets (a $2,000 Value!)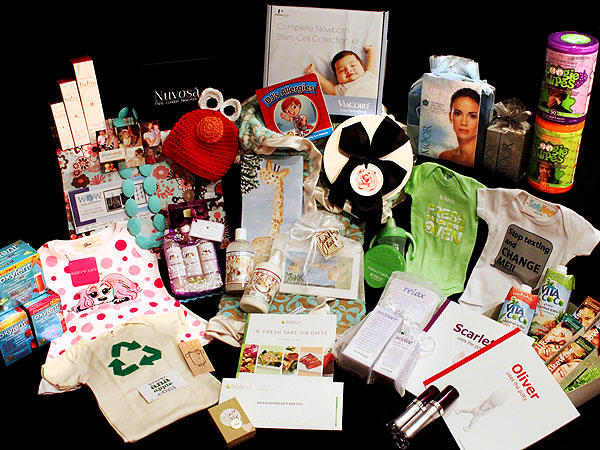 Courtesy Hollywood Baskets
Well-known gifting company, Hollywood Baskets, is giving new mom Tori Spelling a luxe gift basket to celebrate the birth of new son Finn. Wish you could score the same goodies for your little one? You can! The company is giving away the exact same items to one lucky Moms & Babies reader.
It includes the following items:

A personalized baby book by Bossy Baby Chronicles, tricked-out threads by Ana Apple, luxurious handmade baby blanket by Burpalicious, Chewbeads teething jewelry, a Be Still My Heart necklace by Three Little Pixies Boutique, a children's book DJ's Allergies by author Jennifer Ormond, a children's painting and onesie by artist Judith Raye, "New Mom" skincare products by Phytomer, Likewise Scientific Skincare by Dr. Julie Pena, Moodylicious children's spa products, Beesom & Blossom Botanicals Sweetpea and Lavender Baby wash & Violet and Rosebud Baby lotion, the Anti-aging collection by Nuvosa Skincare, Puppy Luv Glam Swarovski adorned dress that supports animal rescue nationwide, Fiafini Skincare Collection with Certified Organic Marula oil, Viacord Cord Blood Banking materials (which includes private courier, processing and first year fees free of charge), Vita Coco all natural coconut water, Oxylent's award winning multi-vitamin drink, Prenatal, children's and regular formulas, WOW hanging jewelry organizer, Rose and Randolph cookies, Boogie Wipes gentle saline wipes, Moor skincare and bodycare collection, a Hooked by Ima Elmo hat, Resvology's Gene Smart Skincare, 31 days of fresh & gourmet meals by Fresh Diet including a baby onesie, recipe book, and baby containers.
Hurry up and enter for your chance to win! Online entries must be received between 12:01 a.m. Eastern Time ("ET") on 9/10/12 and 11:59 p.m. (ET) on 9/16/12. See Official Rules.