Sh*tty Mom Book Doesn't Sugarcoat Parenting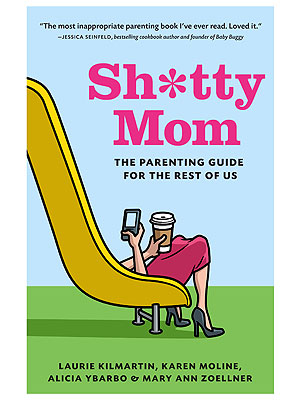 Courtesy Harry N. Abrams
Following the publication of their first book, Today's Moms, a comprehensive guide on parenthood, Alicia Ybarbo and Mary Ann Zoellner realized what their fans were truly looking for was a little attitude.
"We have a Twitter following of about 280,000, and most moms responded to Tweets that were comedic in nature or were light-hearted," Ybarbo tells PEOPLE. "They still like the [helpful] information, but they like it given with a dose of sugar, and a little sass."
The revelation inspired the two, alongside coauthor Karen Moline, to team up with comedienne Laurie Kilmartin, a writer for Conan, and pen their ode to mothers just like them: Sh*tty Mom: The Parenting Guide for the Rest of Us.

Containing personal anecdotes from all four authors about navigating the minefield of motherhood, from scheduling conference calls while the kids are at home to successfully dropping the children off at camp, the no-nonsense tome hopes to help other mothers realize parenting is a challenge for everyone, but humor can help.
"With the 'Tiger Mom' and attachment parenting, it's like women can't win," says Zoellner. "We all have our sh-tty mom moments, and I think every single mom can relate to that."
"The storylines are universal," adds Ybarbo. "We've all had situations where the babysitter is judging you; we've all had situations of dealing with moms who exercise … We're just trying to let women know it's okay to feel that you didn't get it all done today; we're trying to liberate women from that feeling of guilt."
Even more so than imparting parenting wisdom, the book is an attempt to simply lighten mothers's moods.
"There are advice books for sure, but ours is the non-advice, advice book," says Zoellner, "and it's funny. Every woman that we've talked to has really enjoyed the humor in it." – Kiran Hefa