Gwen Stefani: 'My Biggest Accomplishment Is My Marriage'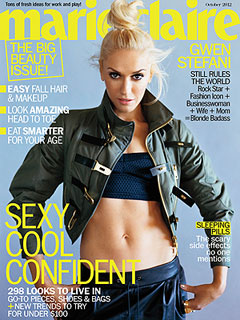 Courtesy of Marie Claire
She's filled her shelves with countless awards, topped the charts with many, many hits, and even managed to simultaneously launch her own clothing collections, but this Friday Gwen Stefani will celebrate her biggest accomplishment to date: her 10-year wedding anniversary with husband Gavin Rossdale.
"A miracle … my biggest accomplishment is my marriage so far. Because it's hard, everyone knows it's hard," the No Doubt frontwoman, 42, tells Marie Claire in their October issue.
"[Marriage] is something that I always wanted to do successfully. It was a dream of mine. I like the official-ness and the family-ness of it all, having the same name and making decisions together."

Despite hitting the decade milestone, Stefani says their marriage — and the attraction! — is still as strong as ever.
"We're learning about each other all the time. He balances me out," she shares. "And he never stops liking me, which is awesome! It makes me feel happy, that someone likes me as much as he does."
Calling Rossdale "an amazing dad" to the couple's two sons Kingston, 6, and Zuma, 4, Stefani admits she had once hoped to expand their family of four.
"I really, really, really wanted one about two years ago. And it didn't really work out," she reveals. "So … I feel good with what we've got. Everything works out how it should. You can't plan anything, right? You can try."
But with two rambunctious boys, there's been no time to dwell on her dream of a third baby. Although the brothers have formed a close bond, Stefani says, there is still plenty of room for (rough!) play.
"From the moment they wake up, they start beating on each other. I never knew they would be so physical," she explains. "They're just starting to play real well together, but with a lot of fighting. They do look out for each other — especially the little one, he really loves his big brother."
Life for Stefani seems to be finally settling down; She reveals perhaps one of her hardest times as a mother was during the making of No Doubt's latest album, Push and Shove, which is slated for release on Sept. 25.
"I would be up all night because my second baby didn't sleep, and he had a lot of ear infections. And then I'd wake up in the morning and do my workout … and then meetings for my three clothing lines, and then hang out with my kids, take them to preschool, da-da-da-," she recalls.
"And then at 4 o'clock, I'd be like, 'All right, I'm out of here, I'm going to go to the studio,' and try to write a record. Sit on the couch [with my bandmates] and be like, 'Let's do this now because I'm missing time with the kids; I could be having dinner with them and putting them to bed.' It was really hard."
And while she's the first to admit "every day someone is suffering because I'm doing other things," Stefani has learned to lighten her load by placing her family first — and, occasionally, putting her career on the back burner.
"This last year I kind of stopped working out. I think my body just needed a break. And so I did that, and focused more on feeling good as opposed to beating myself up," she explains, adding she has also taken a step back from her involvement in her L.A.M.B line.
"I have learned to delegate. It still looks awesome, but did I pick out the buttons? No, I didn't," Stefani says. "I missed the last two Fashion Weeks because they were when school started; I can't miss the first week of kindergarten."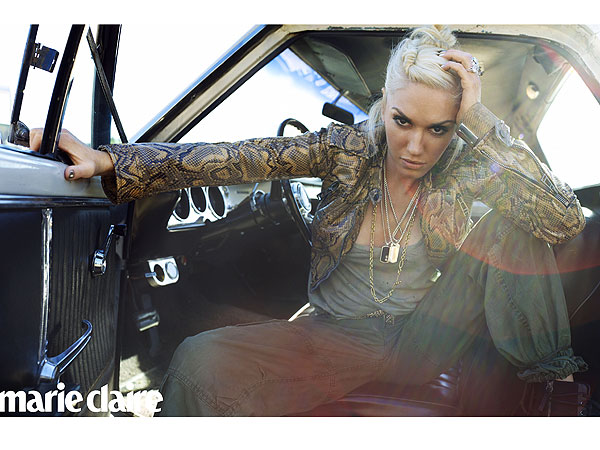 Courtesy of Marie Claire
— Anya Leon