Suri's Burn Book Author Says It's 'All In Good Fun'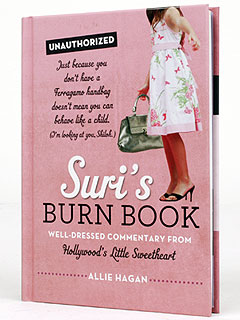 Allie Hagan
It looks like Suri Cruise has a bone to pick!
Channeling the voice of the mini fashionista, blogger turned author Allie Hagan steps into the 6-year-old's shoes (er, stilettos!) in Suri's Burn Book, Well-Dressed Commentary From Hollywood's Little Sweetheart.
Filled with Suri's thoughts on everything from her fellow pint-size peers' style (or lack thereof) to the swirling rumors surrounding her own high-end lifestyle, the book doesn't pull any punches.
"I knew if I wrote [this blog] in my own voice it would come across as unnecessarily mean or crazy," Hagan tells PEOPLE. "And then it came to me that it would be perfect if Suri did it."

And for anyone doubting Suri's kiddie credentials, Hagan notes that not only does she seem "very particular about her style," but more importantly, has the spunk to match! "She's definitely been able to roll her eyes since about the age of two," she says.
However, Hagan — who has never heard from any of the stars personally — insists the commentary "is all in good fun" and should be taken lightly.
"I think the humor of it all comes from the fact that it's ridiculous. We all pay way too much attention to these kids than we should," she explains. "I'm trying to shine a light on how silly it is that we care at all by taking it to a satirically ridiculous level."
With Suri's superstar parents Tom Cruise and Katie Holmes having recently finalized their publicized divorce, Hagan is considerably more cautious with her wording.
"I probably give every single post a second glance now. It's easy to imagine Suri as a sassy fashionista, but at the end of the day she's a little girl whose parents are splitting up," she says. "The last thing I want to do is poke at her."
In fact, the author admits she's found herself a part of Suri's fan following. "I definitely admire her style," Hagan shares. "If she and I were the same shoe size, I'd be all over it."
So aside from Blue Ivy vying for her signature helicopter travel accommodations, what else is on Suri's radar? "When Kate Middleton has a baby! Suri's dreading it, but I as Allie can't wait," Hagan jokes.
— Anya Leon with reporting by Kim Hubbard