Ali Landry's Blog: My Top 10 Car Seat Safety Tips
Thanks for welcoming celebrity blogger Ali Landry!
A former Miss USA, the model and actress, 39, most recently starred in and executive produced Hollywood Girls Night on TV Guide Network.
Landry is also the founder of Spokesmoms, a product review platform for mothers, and is a supporter of SafeKids.org, which works to prevent childhood injuries.
Married to director Alejandro Monteverde since April 2006, the couple are parents to 5-year-old daughter Estela Ines and 11-month-old son Marcelo Alejandro.
You can find Landry on Facebook and on Twitter @alilandry.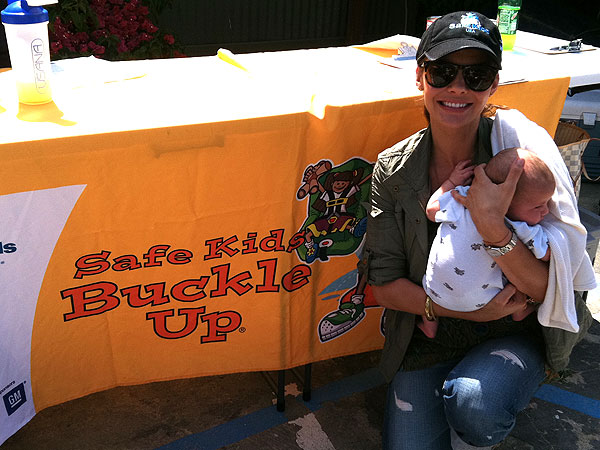 With Marcelo at a Safe Kids event – Courtesy Ali Landry

Hi everyone,
I first want to say thank you so much for all of your posts and supportive comments of each other on last month's breastfeeding blog. After all, that is what this is all about … sharing our stories and showing up to support each other as women!
This month, I would love to start another conversation with you guys about something that I am very passionate about — car seat safety. It all started when I heard the story of a precious little boy named Kyle Miller.
Kyle was just three years old when a reckless driver blew through a red light at 45 miles per hour, plowing into the van Kyle and his family were in. The van rolled several times and the seatbelt securing Kyle into his booster seat failed. He was thrown from the car and killed instantly.
Kyle's parents had thought he was safe. They waited until he was over 40 lbs. to move him into his booster seat, and he was belted in properly at the time of the accident.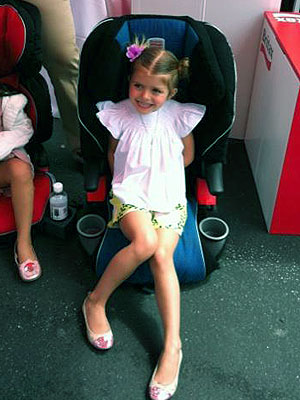 Estela takes a seat – Courtesy Ali Landry
When I heard Kyle Miller's story, my daughter Estela was also 3. Imagining the devastation his family must have felt was overwhelming. There was nothing that I would have done differently had I been in their shoes. Their terrible loss could have just as easily been mine.
When I first installed my daughter's car seat, I admit — I didn't read the instructions. I just assumed it was intuitive, and that she was safe. I had no idea I had installed it wrong. In fact, over 90 percent of car seats are improperly installed. That is such a shocking fact to me.
Knowing what I know now, I feel such a deep sense of gratitude for Kyle's parents. Because they had the strength to share their story, I not only corrected my own mistakes, but also decided to get certified as a car seat technician and team up with the non-profit Safe Kids to help raise awareness about child safety.
Safe Kids Worldwide is my go-to source for information about keeping kids safe from injuries. Another fact that I didn't know was that accidental injuries are the number one cause of death for kids in the United States. Safe Kids provides proven and practical tips to keep kids safe around water, fire, cooking, medication and of course, cars.
They are a great resource for car seat information. Not only can you learn what type of restraint is best for your child, you can actually take your car seat to an event where a technician will teach you how to install it correctly. Safe Kids hosts more than 8,000 events a year.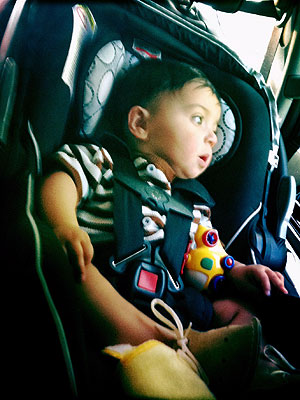 Marcelo buckled up right – Courtesy Ali Landry
Here are some car seat tips from Safe Kids that I would love to share with you:
1. Buckle up: You too, parents. Your kids are watching!
2. Do the one inch test: Once your car seat is installed, give it a good shake. A properly installed seat will not move more than one inch where the seat belt or lower anchor (LATCH) strap goes through it.
3. Do the pinch test: This makes sure that the harness straps are snug on your child. You should be unable to pinch up any excess webbing when the child is properly restrained in the seat. The chest clip should be placed at armpit level.
4. Don't add products to your car seat: Car seats are tested for use only with the items that are sold with them. It's tempting to add accessories, but some car seat manufacturers void their warranty if extra products are added to their seats — and none allow seats to be modified in any way.
5. Don't be in a hurry: Parents may want to "graduate" their child to the next stage, but keep children rear-facing for as long as the seat allows. When you move to a forward-facing car seat, visit a car seat checkup event to learn how to use your seat properly in the forward-facing position. Finally, don't stop using a booster seat until the child properly fits in the seat belt in the vehicle they will be riding in.
6. Keep children in the back seat: Until they are 13, or better still, until they are learning to drive.
7. Check the label: Make sure your car seat is right for your child's age, weight and height.
8. Read the instructions: Take the time to familiarize yourself with the instructions for your child restraint, as well as the car seat section of your vehicle's owner's manual. You may be surprised what you find out.
9. Secure loose objects: They can become dangerous projectiles in a crash. Buckle in heavy objects, or store them in the trunk or under a seat.
10. Need help? Get peace of mind at a Safe Kids car seat event or inspection station.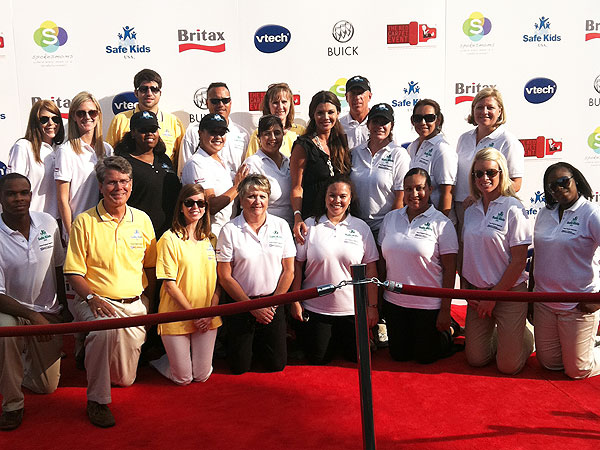 With everyone at last year's event – Courtesy Ali Landry
National Child Passenger Safety Week is Sept. 16th-22nd. As we prepare, Safe Kids and I will again be hosting a red carpet event sponsored by Britax in Hollywood on Saturday, Sept. 8 (stay tuned for photos!!) to raise awareness and encourage people to get their car seats inspected.
No matter where you live, you can find a list of inspection centers on the Safe Kids website. If you have young children, especially kids under 80 lbs., consider this a challenge. Take an hour and get your children's car seats checked out. Find out if you're one of the 10 percent of parents who have installed them correctly.
If you are, you get serious bragging rights. If instead you find out that you accidentally installed it incorrectly, then you will have taken a major step toward ensuring your family's safety. My motto is, "Once you know better, you do better."
Whatever you learn, please share it here in the comments. There's nothing more important than the safety of our kids.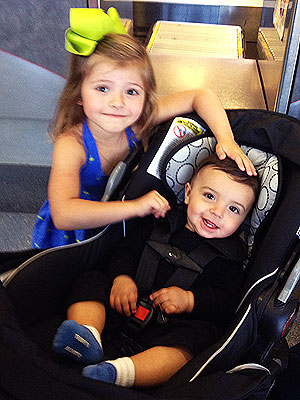 These two are why I do this – Courtesy Ali Landry
— Ali Landry