Claire Danes: I'm Expecting … a Human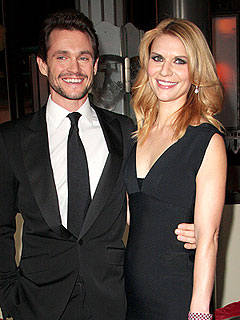 Landov
She may be keeping mum on the sex of her baby on the way, but Claire Danes is more than willing to divulge one big secret.
"It is a human being, which is a profound relief," the actress joked while appearing on Live! with Kelly on Tuesday (the same day the new co-host Michael Strahan was confirmed).
Due early next year with her first child with husband Hugh Dancy, Danes — who is "feeling good and balanced" — has managed to keep her "soccer ball" belly under wraps.
As a result, the Homeland star, who reveals the pregnancy will not be written into her storyline, has had no trouble disguising her bump in front of the camera — until now!

"I've been pretty fortunate thus far — we're in the middle of filming our second season and luckily we've been able to conceal it," Danes, 33, explains.
"It's now getting to the point where I'm looking a little knocked up. They haven't written it in, but they'll be able to manipulate it in post and do some CGI trickery and make Carrie not so pregnant."
— Anya Leon