Constance Marie's Blog: Meltdown Management
Look who's back! We're thrilled to say hello again to Constance Marie, our original celebrity blogger!
The actress, mom to daughter Luna Marie, 3½, with fiancé Kent Katich, stars on Switched at Birth, premiering Monday at 8 p.m. on ABC Family.
She's also one of the celebrity voices narrating beloved children's stories for Little Golden Records, launching its latest collection Tuesday at Walmart.
Marie, 46, can also be found online on Facebook and @goconstance on Twitter. If you've missed any of her past posts, check them out here.
In her latest blog, the actress's little girl is taking after Mom with her most dramatic performance yet — a meltdown over leggings.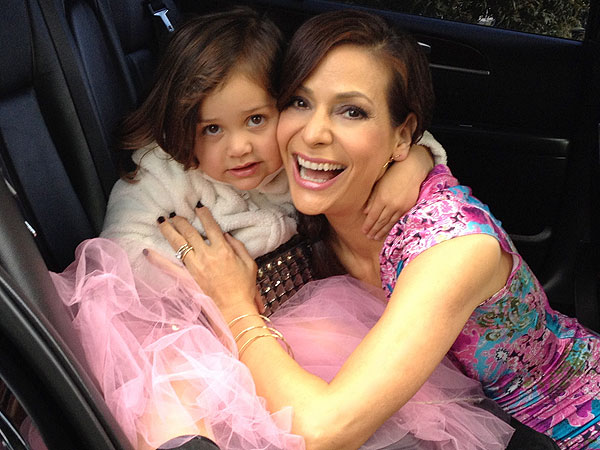 Loving the pink tutu – Courtesy Constance Marie
Yes, this is my life right now. I had only ever heard of the terrible twos, so when my daughter was essentially Gandhi baby throughout her second year, I thought, "Whew! I am so glad I never have to deal with that." Thus reinforcing the thinking that MY daughter was of course perfect. NOT! Guess what I got? The terrible threes!
Now in my totally biased opinion, the terrible threes are way worse! Just think about it: my daughter is bigger, taller, heavier, more articulate and has one year's extra rage! Or as us actors like to call it: passion!
I now have an intimate knowledge of the 3-year-old meltdown. It could be at any time, anywhere, and about pretty much ANYTHING! And to be totally honest, it usually startles the crap out of me. Why? Because I thought my daughter was perfect, remember? But I digress.
These tantrums also startle me because often they are over the most ridiculous thing that I never saw coming. The first time was about leggings. Oh yes, you know those diabolical things! Leggings! Apparently, they need to be just perfect. What makes perfect leggings? I don't know. But apparently my daughter does.
Here's how it went for me. I let Luna Marie pick out her clothes, which she does every morning, and honestly, she almost has better taste than I do (I said almost).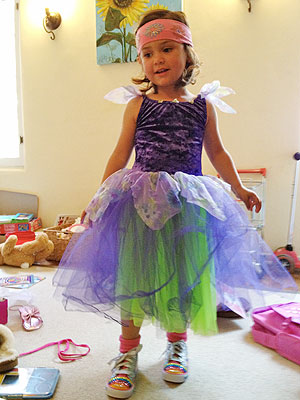 I didn't pick this out – Courtesy Constance Marie
So one morning, we were late. She picks her outfit and apparently I rushed her and I didn't allow the proper amount of time for her "process." But she picked it, it was cute, so I figured everyone was happy and we could move on. Then, I continued my own process to scramble and collect the 300 things I need to bring or pack to get to our play date.
And right as we are about to go out the door, while I am loaded up like a frickin' donkey, I hear this tiny voice behind me that says, "I don't like these leggings." I stop. I turn around. And halfway across the room, frozen stiff and rooted to the ground, unable to make the lengthy cross to me and out the door, stands Luna Marie.
At this point I'm confused. Then I ask, "What did you say, sunshine?" And her response is a firm, "I said I don't like these leggings. They are not beautiful." I am perplexed. I stammer and say, "Um … they look beautiful to me." She doesn't budge and she doesn't look convinced.
This is where I gently remind her that she picked them. I also remind her we're running late so we have to go. Remember, I am still loaded up with 300 things and they are starting to get heavy. I am now sweating.
At that moment, I see Luna Marie's bottom lip start to quiver. I think to myself, "Uh-oh." And then she takes a huge breath in, leans her head back and KABOOM! She starts wailing! I am frozen in my spot.
It has to be the most dramatic performance I have ever seen in my life — and I'm an actress, I've seen plenty. Luna Marie's performance is so over the top I almost start to laugh. BUT I DON'T! (Otherwise I might as well start saving up for her therapy as an adult now).
All I can think is, "Seriously, over leggings?" She's worn these "not beautiful" ones like 20 times before. I drop all my stuff. I realize that this might take a while. So now the sweaty donkey (me) must transform into a therapist.
I get down on one knee, I hug her, I give compassion, but then, I gently remind her that she picked them. She had a choice and they are perfectly good leggings. I also remind her that we are late so we have to go. This perfectly reasonable and logical line of thinking does not work at all.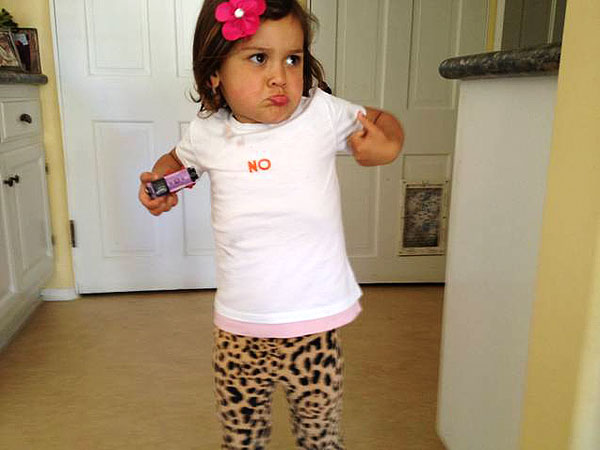 My life lately – Courtesy Constance Marie
Luna Marie is still wailing. I mean like inconsolable, red face, snot dripping everywhere … like a mini mental breakdown. And I am still sweating. I take a breath, I gently grab that little hand, pick up all my crap and try to load us into the car. And miraculously, we finally make it to our play date.
But all through the drive I had to hear, "These leggings are not my favorite." I kid you not, this went on all day long! I think I must have explained about choices and the consequences of those choices (which leggings to wear) about 40 times. Secretly I thought, "S— … I should have just quickly changed them."
I mean, I wanted her to be happy. What mom doesn't want their kid to be happy? But I remembered that I once heard, "If you always give in to the tantrum, you are setting yourself up for many, many, and I stress many more battles for control over every day little things." Of course, I hated that I remembered hearing this or reading it in one of my child-rearing books!
It was easier to just give in, but I didn't. I took a breath and stayed strong. It was horrible, but I did it. I have to point out that I love my daughter's determination and conviction. Oh yes, and her passion! But some days I wish she would just put a cork in it.
I just want you to know that the end result of this whole drama, is that Luna Marie now knows that when we're in a hurry, she better pick the most FABULOUS thing in her closet because she's going to have to wear it all damned day … even if it kills me!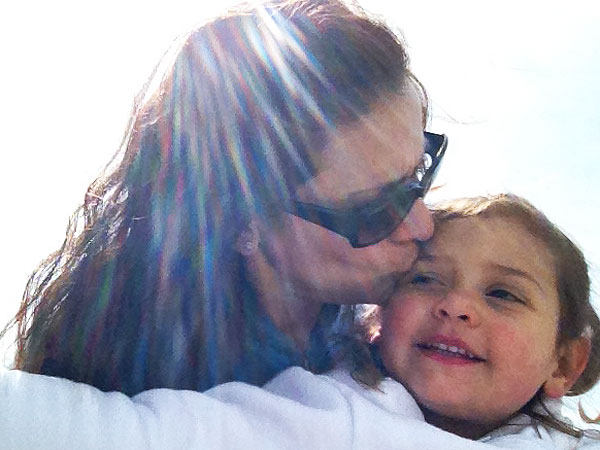 Sunshine kisses – Courtesy Constance Marie
— Constance Marie