Lisa Loeb's Blog: Meet My Son Emet
Our celebrity blogger Lisa Loeb is now a mom of two!
The musician, 44, and husband Roey Hershkovitz are parents to daughter Lyla Rose, 2½, and welcomed their second child, son Emet Kuli, on June 15.
In addition to her number one single "Stay (I Missed You)," Loeb also had hits with "Do You Sleep" and "I Do." In the years since, she's recorded two children's albums, written a kids book, done voice overs, developed an eyewear line and started the nonprofit Camp Lisa Foundation.
She can be found on Facebook and on Twitter @lisaloeb.
In her most recent blog, Loeb writes about her birth story, explains how she and Roey chose their son's name and introduces her 11-week-old baby boy!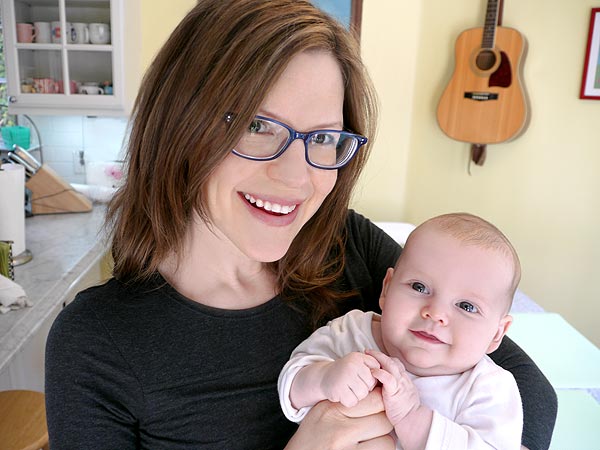 Me and my little guy! – Roey Hershkovitz
Hello! I wanted to catch up and tell you all about my baby's birth and what's been going on lately. I was supposed to write this blog last month, but as new mothers (and probably all parents) know, sometimes life gets in the way of the "to do" list.
Here's a short version of the birth story: I went into labor (for real this time) on June 15 and headed to the hospital. Since I'd had two false alarms earlier in the month, I wasn't sure I was actually in labor, even though I was having contractions and feeling painfully urgent, as one does heading into labor.
My doula, who's one of my best friends, came over to the house at 3 a.m. to confirm I was indeed going into labor and we caravanned to the hospital. Luckily our bags were already packed from a few weeks before, and in the trunk of the car.
They say to bring treats for the nurses at the hospital and I'd had a feeling I was going into labor soon, so I'd made a banana layer cake. I got to bring a special treat (one that reminds me of the old school Sara Lee cake in the metal pan)! Click here for the recipe.
We arrived at the hospital and I delivered the baby about 12 hours later.
I'd wanted to go as long as possible without any drugs, but halfway through or so, I decided it was time for a partial epidural because the contractions were so strong! I went from not wanting a lot of drugs to needing two more rounds of medication to help me with the overwhelmingly powerful contractions.
Then it was time to push. I had trouble feeling the muscles in my stomach, and was a little annoyed that I'd had so many drugs, which I didn't want in the first place. In the end, I pushed 30 minutes or so and the baby came (and in the end, I was thankful I'd had that medication…)!
Our beautiful baby boy was born at 2:17 p.m. on Friday, June 15th. 20 inches long, 7 pounds 7 ounces, and very healthy and cute!
I held him right after he was born, and cried as my husband and I marveled at the sweet, amazing baby — inside of my belly one minute and a few minutes later, a person out in the world.
We named him Emet Kuli Loeb Hershkovitz, although he just goes by Emet, like when he goes to school or makes a dinner reservation.
We chose the name Emet because it's a Hebrew word meaning "truth" that also sounds like a Southern name, just like our daughter Lyla — her name means "night" in Hebrew and also sounds Southern.
That way my husband's family from Israel, my family from Texas, and other folks we see on a regular basis can pronounce the name in their own way, but correctly!
Kuli is Roey's grandfather's name — actually a nickname — the name he was known by for most of his life. Since he was a very fast soccer player, everyone called him "Kuli" a shortened version of the Hungarian word "kulimász" meaning cart grease, used to make wheels on carts faster.
My husband was very close to his grandfather, so we wanted to use his name. Lyla's middle name, Rose, was my great-grandmother's name.
Lyla's been a great big sister, so gentle with the baby and so excited about how little his feet are and how soft his hair and skin are. Emet is very alert and loves to coo and smile. Lately, he's been trying to talk to and grab his sock monkey blankie.
My husband and I are trying to spend some quality time together too, getting a babysitter to watch the kids while we have date nights — an early dinner out, or even a movie.
Or we just stay home and catch up on Nurse Jackie while eating our nightly ice cream — while I'm waiting for my Laloo's goat's milk vanilla snowflake to come back to the Whole Foods near us, my new favorite is Häagen Dazs Five lemon ice cream.
I started working within weeks after Emet was born, doing some short voice over sessions and even an acoustic concert a month after his birth!
My next goal is to figure out how to balance my work, which luckily is kind of like a stay-at-home mom and a freelance professional — musician, recording artist, voice over artist and more … and also two kids' schedules.
How do you do it? Anyone out there with young baby and toddler schedule experience and some working too? Leave me a comment or send me a Tweet @LisaLoeb.
P.S. I like to get at least seven hours of sleep if possible. Eight is perfect. At night, if possible, but throughout a 24-hour period if necessary … All this talk about sleep … I should go to bed now.
— Lisa Loeb
P.P.S. I'm playing an all-request, fan favorite, live acoustic concert online on Thursday, Sept. 27th at 6:30 p.m. PT / 9:30 p.m. ET. Click here for tickets.