Mighty Math! Heidi Klum Joins Team Umizoomi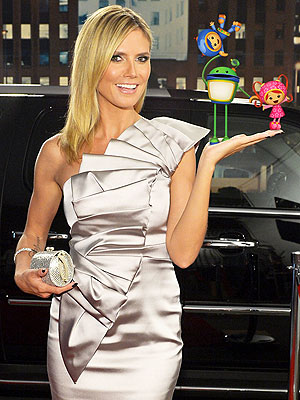 Charley Galley/Nickelodeon
Team Umizoomi is ready for action. But this time, the gang has geared up with a new side kick: Heidi Klum!
In a spot which premiered on Aug. 19, the tight-knit animated trio are called to the rescue when the model turned designer (she recently launched a new baby/kid collection, Truly Scrumptious, at Babies R Us) finds herself in the middle of a red carpet fashion disaster.
Equipped with their savvy skills — and signature belly screen! — Milli, Geo and Bot use Klum's measuring tape tresses and mighty math powers to even out her sky-high heels.
"I wanted to be part of this project for Nickelodeon because I think that Team Umizoomi is a fantastic show and I have four children who are big fans," Klum says.

"I think it's very important to get small children excited about math, so I think it's great what Umizoomi does … they really make it fun!"
Want to see the video? Check it out below:
— Anya Leon