Viola Davis Genesis Is Getting Into My Lipsticks!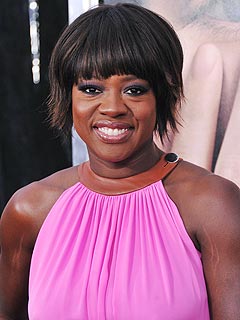 Stephen Lovekin/Getty
Calling life since adopting daughter Genesis "wonderful," new mom Viola Davis always has her little girl on her mind.
"I just had a conversation with her on the phone and she said, 'Hey Mama, how you doing in New York?'" the actress, 47, tells PEOPLE while attending The MOM's Mamarazzi event recently.
"She has been to New York, but she didn't come on this trip as it is so short and I didn't want to uproot her."
There have been a few trials along the way — although she is hesitant to refer to it as the terrible twos stage — but Davis is choosing to see the positive in her 2-year-old's constant curiosity.

"She's written on the walls. She's gotten into my lipsticks," she says. "She calls it 'lippy lips' and when she gets into my lipsticks she puts it all over her face. I love kids and everything they do; I love their innocence."
That innocence, adds Davis, is one she treasures — and will do everything to maintain. "I didn't have a sense of security growing up. I grew up in dysfunction [and] in poverty, and it took me years of therapy … to make up for all the years that I had lost," she explains.
"Now that I have a child I am just feeling like a bull in terms of protecting the security, the innocence [and] the power of having a beautiful child full of joy. It means everything to me."
With a passion for education, the Won't Back Down star admits she has high hopes for Genesis' future — both inside and outside of the classroom.
"I want her to identify as a citizen of the world and not just her small community. I want her to feel like she can be instrumental in changing and shifting the world by using her education," Davis explains, adding her latest role has left her "red hot" about the topic.
"It is a combination of the education she will be getting at school and the education she will be getting in terms of tapping into her voice and her authentic self. I do not want her to be a passive citizen."
— Anya Leon with reporting by Debra Lewis-Boothman