Christy Turlington Burns: Grace Is '8 Going on 14'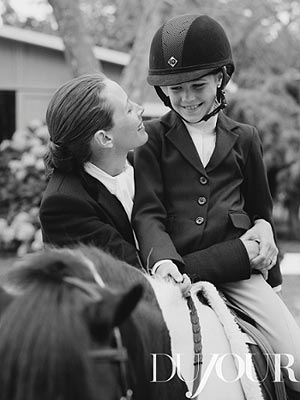 Bruce Weber
The model known for being the face of Calvin Klein's Eternity fragrance and strutting sexily in the video for George Michael's song "Freedom! '90," now spends her time prancing with her 8½-year-old daughter Grace, whom she describes as "a really tough cookie" and son Finn, 6½, whom she says is "a real mush."
Christy Turlington Burns graces the September issue of DuJour, which features her and her daughter horseback riding.
"I started to take it back into my life once I was spending all my time at the barn with Grace," the model, 43, says of her daughter, whom she describes as "8 going on 14."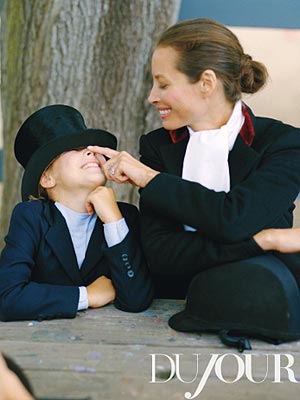 Bruce Weber
After spending the summer in East Hampton, the family is heading to Africa, but it's not thrilling for everyone — yet. Her kids aren't happy about getting the necessary vaccinations, and Grace doesn't want to leave her pony, Blackbird, for two weeks, but Turlington Burns is confident they'll soon feel differently.
"I don't know anyone who hasn't fallen in love with Africa," she admits.
She's especially excited for the kids and husband Ed Burns to meet the mothers and children she worked with while filming No Woman, No Cry, the 2010 documentary she directed and funded after her own experience with postpartum hemorrhaging.
Afterwards, Turlington Burns founded Every Mother Counts, with the goal of reducing the maternal death rate.
"I started doing this work after I gave birth to Grace — that's very, very clearly why I'm doing this," she explains. "But I'm also the mother of a son. It's important to teach him to be aware of women's issues and to be kind and respectful."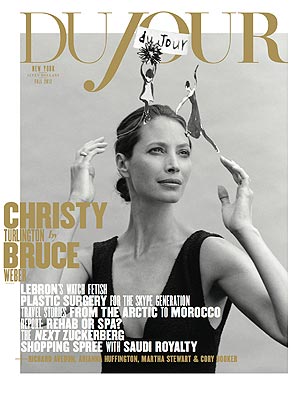 Bruce Weber
— Michael Cohen