Giveaway: A Jewels & Pinstripes Back-to-School Celeb Gift Bag (a $320 Value!)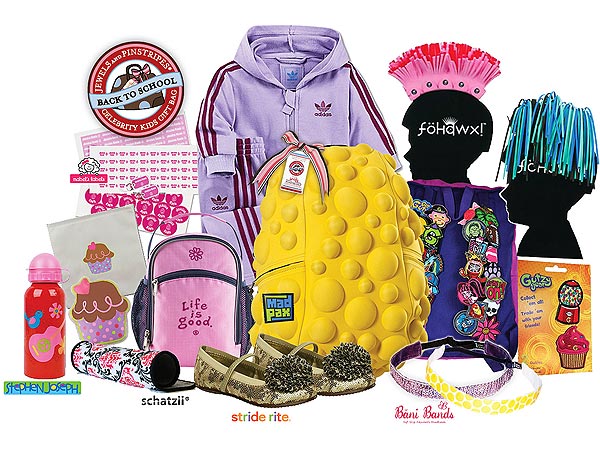 Courtesy Jewels and Pinstripes
Hollywood's coolest kids — including the tots of Brooke Burke Charvet, Alyson Hannigan and Tori Spelling, among others — will be enjoying the goodies in the 2012 Jewels and Pinstripes Back-to-School Celebrity Children Gift Bag. To help your little one kick off the school in style, they're giving away one gift bag to a lucky Moms & Babies Reader.

The prize includes: MadPax Bubble Full Pack in Sunny Side Up, adidas track suit in purple (3T), Mabel's Labels Mabel's Labels Ultimate Back to School Combo Gift Certificate, Stride Rite Buffy Gold Leopard Sequin slip-on shoes (size 12), Fohawx!™ pink Punkrox and Dreadlox helmet accessories, Bani Bands adjustable headbands (styles may vary), Stephen Joseph Girls Rock Drinking Bottle, Cupcake Freezer Friend and Cupcake Reusable Snack Bag, Life is good Kid's Lunch Bag (in peony pink), Gutzy Gear™ backpack strap covers with surprise Gutzies plus Gutzies (2 pack) and Schatzii Smart Cloth Antibacterial Touch Screen Cleaner for Sparkling Screens (style may vary).
Plus, a Back-to-School Celebrity Kids Gift Bag will be auctioned to benefit the Care to Learn Fund. Care To Learn provides immediate funding and action to meet any emergent health, hunger and hygiene issue a child might have; addressing a physical need, restoring respect, and getting that child back in the classroom.
Hurry up and enter for your chance to win! Online entries must be received between 12:01 a.m. Eastern Time ("ET") on 8/20/12 and 11:59 p.m. (ET) on 8/26/12. See Official Rules.