Jennie Finch Is Expecting a Daughter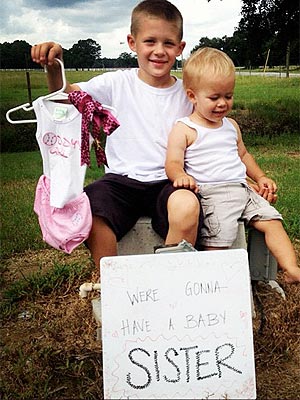 Courtesy Jennie Finch
It'll be a girl for Jennie Finch!
The Olympic softball star has announced that the baby she and husband Casey Daigle expect in January will be their first daughter.
Finch — who broke the news of her third pregnancy in her PEOPLE blog — teased the happy surprise Friday evening, tweeting a photo captioned, "A little family ice cream celebration night! Celebrating some exciting news!"
She built more suspense Saturday, tweeting, "Drum roll! Our exciting news yesterday was… We're gonna have… It's a…" before providing a link to a photo of sons Diesel, 14 months, and Ace, 6, officially breaking the news.
"I love my boys, and I just didn't feel like I was finished having babies, so this pregnancy is truly another blessing," Finch, 31, wrote in her blog.

— Sarah Michaud