Josie Maran's Blog: How I Gave Birth In My Backyard
Our blogger Josie Maran is now a mama twice over!
The face of Maybelline for years, the model, 33, has also dabbled in acting, appearing in Van Helsing, and reality TV, where she took a spin on Dancing with the Stars.
In 2007, Maran established Josie Maran Cosmetics, her own natural product line. Since the launch, the Argan oil-based skincare and cosmetics have been the recipient of various industry awards.
Having welcomed her second daughter on July 1, Maran resides in Pennsylvania and California with her husband, Ali Alborzi, 6-year-old Rumi Joon and 6-week-old Indi Joon.
You can find her on Facebook and on Twitter @josie_maran.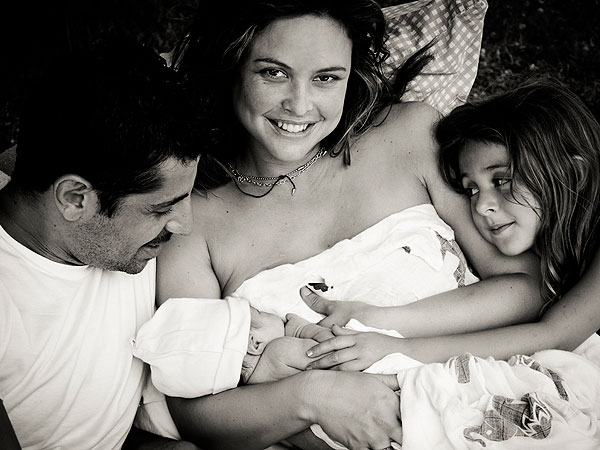 My new family of four – MB Anderson Photography

Hello my PEOPLE peeps,
There've been some pretty major changes in my life since I last wrote you in June. On July 1, I gave birth to my second little angel, Indi Joon Maran Alborzi.
Indi was born in the backyard of our Pennsylvania farmhouse, and we were surrounded by my family and friends. Talk about a labor of love! There was nothing but love in the air, and I'm sure that helped Indi make her way into our arms in only four hours.
I'd been having contractions for about a week before I finally went into labor. I kept waking up in the morning thinking, "Today's the day."
Being nine months pregnant in the heat and humidity of Pennsylvania was getting old, so I did what the modern mom does: I went on Twitter and asked if anyone had any tips to make a baby decide to move out of Mommy Hotel.
Sure enough, another mom recommended spicy food. I didn't hesitate: I dragged my husband and daughter to dinner at a Mexican restaurant.
It worked! The next morning I was standing on the stairs in my farmhouse chatting with Ali's mom when my water broke. Instantly I became giggly and giddy with excitement at meeting my new baby.
Soon I was sitting in a blow-up kiddie swimming pool in my backyard with my midwives, family, and friends gathered around. My dear husband was in the pool with me, encouraging me, telling me that I was powerful, capable and beautiful.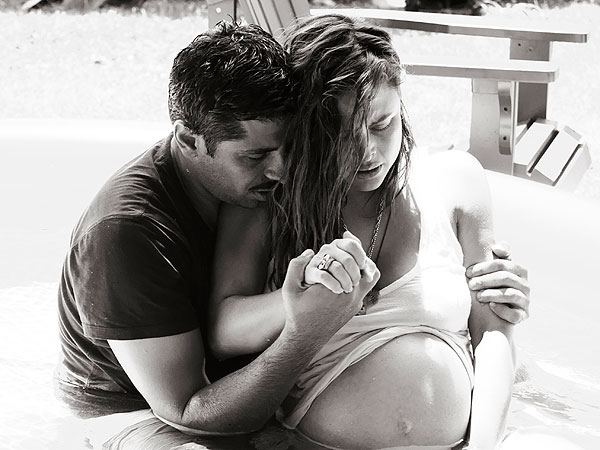 Laboring with Ali's support – MB Anderson Photography
My older daughter, Rumi Joon, was dancing around, checking on me, then running off to make me clover crowns. She even came out with a plate of cookies for my guests — always the perfect little hostess. When I was struggling, she gave me lots of kisses to help me through.
It was a beautiful day. I took in the view around me as each contraction came and went through my body. I love being outside, so the choice to give birth in the great outdoors was a natural one for me.
Being surrounded by birds, plants, and my family was much better than being in a hospital with impatient doctors and lots of beeping monitors. A home birth was the perfect choice for me — that's why I did it again.
I understand that this birth choice isn't for everyone, but I believe in trusting my body to do what women have been doing for thousands of years. Childbirth isn't scary; it's a natural and powerful wonder. I encourage all women to explore their options, and know that they have control over how they give birth.
While my daughters' births were very different — Rumi was born in 14 hours under a jasmine vine, while Indi was born in four hours under a honeysuckle bush — each was a truly magical experience. I brought my girls out of my body and into nature, and I hope this early experience inspires them to remember their ties to the earth.
During my labor, I wore a necklace hung with the charms that the women in my life gave me at my baby shower, each also offering an intention for my birth. The charms and the women's wishes were all so different — some wished me strength and perseverance; others wished me lightness and freedom. The love and power in my necklace reminded me that I'm never alone, even when I'm in labor.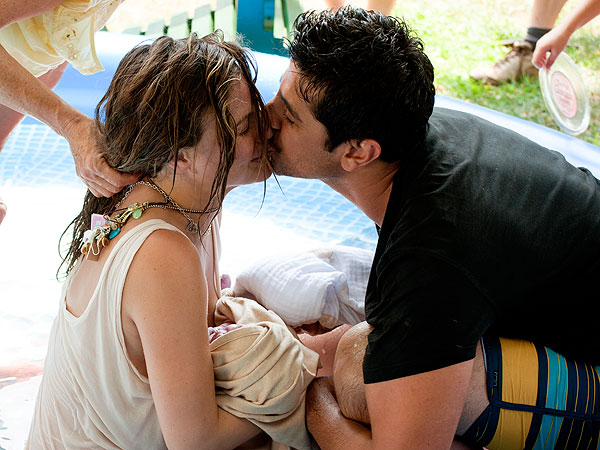 Indi Joon makes her debut – MB Anderson Photography
When it was finally time for Indi to arrive, Ali caught her in the water. At first, we were pretty shocked she was a girl — I had thought I was having a boy! That moment was a beautiful reminder that we don't know or control everything.
We were filled with love and adoration for our little girl, with her beautiful, perfectly red lips. Rumi said, "She looks like Snow White!" Indi was born with a full head of dark hair, which was funny — Rumi was bald for months as an infant.
As soon as she was born, Indi let out a triumphant scream that sounded to me like, "Hi there, I'm alive and kickin', guys!" She was instantly alert to the world and the sunshine on her face.
No labor is easy, but the intensity of giving birth prepares you to become a great mom. Childbirth has taught me about patience, focus, and confidence in my body and its power. At the same time, it teaches you lessons in surrendering to what is natural.
I have never felt such immense joy as I did when birthing my daughters. When I held Indi and Rumi for the very first time, I knew that I already had everything I needed to be a mom to them. The intensity of childbirth provides deep wisdom to a mother as her child passes through her.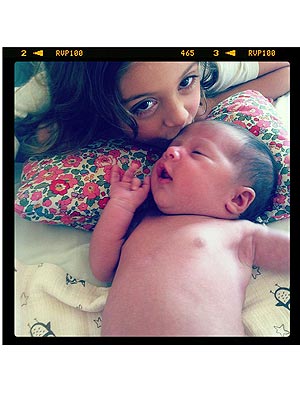 Rumi kisses her sister – Courtesy Josie Maran
Ali and I kept Indi's name a secret for a few days. We have always loved the name. It feels strong, independent, and full of life. The name itself means "gift," which resonated with us because she is already such a blessing to our lives.
We chose to give her the same middle name as Rumi: Joon. Joon is a Farsi term of endearment meaning "my dear" or "my beloved." It ties our daughters to their Persian heritage, and to each other.
In fact, Rumi is already inseparable from her little sister. She's the best helper I could ask for. She burps Indi, sings her to sleep, kisses her and says, "Hi sweetheart, you're my sister!"
Being a mother of two daughters is the most rewarding experience of my life. It's definitely double the work of having one, but my love for my daughters has also doubled, if not quadrupled!
I hope they'll grow up with a passion for making the world a better and more beautiful place. What more could a mother ask for?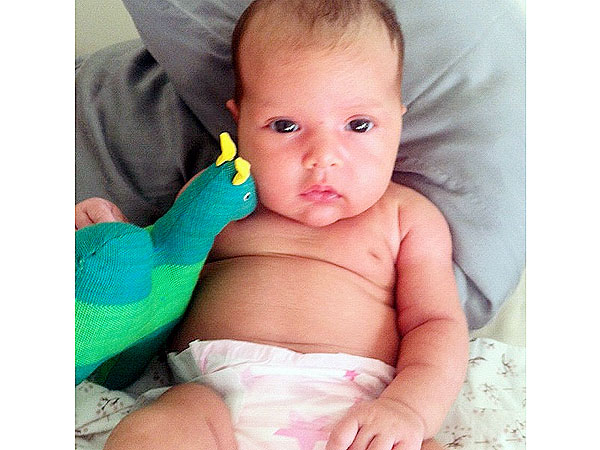 Six weeks old already – Courtesy Josie Maran
With love,
— Josie Maran