Giveaway: A Radio Flyer Scooter Duo (a $100 Value!)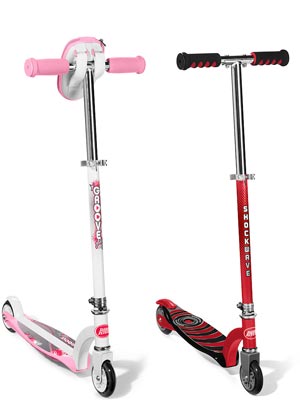 Courtesy Radio Flyer
How do you roll? Radio Flyer — know for its safe, quality wagons, tricycles, scooters, and other ride-ons that spark imagination and inspire active play — is launching two cool new scooters this month. And now, the company is giving away a great prize package featuring the new GrooveGlider and Shockwave scooters to one lucky Moms & Babies reader.
The prize includes Radio Flyer's GrooveGlider™ Scooter ($49.99), the first-ever music scooter, and the Shockwave™ Scooter ($49.99), designed with Flexdeck™ Technology for bigger jumps and a better ride.

Radio Flyer's GrooveGlider™ (ages 5+) offers riders the opportunity to rock while they roll. A Safeguard™ Storage Case with built-in speaker easily unzips, allowing kids to plug any digital MP3 music player into the clear definition speaker to enjoy crisp, clear, hands-free sound while they roll down the sidewalk. The GrooveGlider™ is designed for durability with a solid steel frame for no-rattle riding and a wider deck for greater control.
The Shockwave™ scooter (ages 5+) from Radio Flyer gives kids the a smooth ride and the feeling of bigger jumps. Boasting built-in suspension to enhance jumps and minimizes bumps, the scooter is made with durability and speed in mind, offering a solid steel frame for no-rattle riding and a wider deck and foot break for added control.
Radio Flyer scooters are available at radioflyer.com, Target, Toys 'R Us and select Walmart.
Hurry up and enter for your chance to win! Online entries must be received between 12:01 a.m. Eastern Time ("ET") on 8/13/12 and 11:59 p.m. (ET) on 8/19/12. See Official Rules.