How Laila Ali Gets Her Son to Eat His Veggies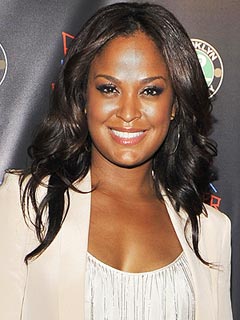 Michael N. Todaro/FilmMagic
Laila Ali recently learned a neat trick to get her son C.J., 4 this month, to finish his green beans.
"My son is a little competitive," Ali, 34, recently told PEOPLE of her eldest child with former NFL star Curtis Conway.
During a visit to a park a few weeks ago, C.J. challenged two 6-year-old boys to a race, but fell behind. "So when we got home he was like, 'I wanna be six, because I want to be faster!'" says Ali with a laugh.
"So I thought, I'm going to capitalize on this, and I said, 'Did you eat your green beans? Because they're going to make you faster!' And he's like, 'Okay!' And now he's eating his vegetables. Whatever works!"

It's no surprise that Ali, an undefeated former pro boxer herself, is trying to set a healthy example for C.J. and his younger sister Sydney J., 15 months.
"I think it's really important to make fitness a priority, and to schedule it," says Ali, who, after putting on 40 pounds during her second pregnancy, recently completed her first triathlon. "I try to get it in in the morning, so running is a good staple go-to, but I like Pilates, weight training and spinning, too. I get bored really easily."
What about boxing — especially now that it's an Olympic sport for women? Not really, she says.
"I would've loved to have been able to compete in the Olympics," confesses Ali, whose famous dad, Muhammad Ali, was the 1960 Olympic heavyweight champion in Rome. "To be able to be considered the best for your country? I would not have been able to pass that up."
But those days are over, she adds. "I've been there, done that. You miss it sometimes, but it's not like I'm going to go back. I'm just very excited for these girls — women's boxing in the Olympics is long overdue."
— Kristen Mascia