Ryan Sutter's Tips for Making Family Workouts Fun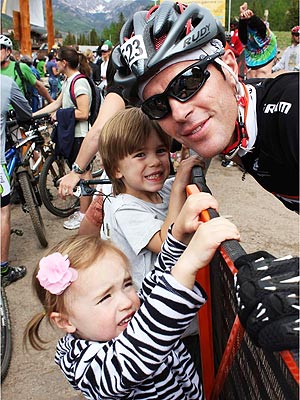 Courtesy Ryan Sutter
As a lover of the outdoors and athletics, staying in shape is an important part of dad Ryan Sutter's life, and also why he's partnered with ACE Brand to help everyday people recognize what it means to be a champion.
But pursuing such a lifestyle, including training for events like the Leadville Trail 100 mountain bike race and the Gore-Tex TransRockies Run, has also provided him with an opportunity to positively influence his children, 5-year-old son Maxwell and 3-year-old daughter Blakesley, on the importance of staying active.
"They probably started when they were about a year old, as far as being active," Sutter tells PEOPLE. "[My wife Trista and I] don't force them to do anything, we just try to expose them to a lot of different sports and activities."

To help keep your kids active, take a look at Sutter's tips for fellow parents to help encourage a similar mindset in kids:
Make it fun! Kids don't understand suffering for benefit or working out to get in shape; they understand fun. If it's not fun, it won't last. "Both of my kids were skiing at 2 years old. We picked days where it was warm and we were only out [on the slopes] for an hour and we would drink lots of hot chocolate," Sutter says. Be careful when you start your kids doing things when they're really young, because you don't want to leave a bad taste in their mouth.
Bring snacks. "When my kids start to lose it on a hike or something, a break and a Clif Bar or some trail mix will bring them out of it and extend the trip so we can at least get back to the car," Sutter says.
Build in a reward. "I will run with my daughter up to the top of Vail Mountain, Colo," Sutter says. "She rides in a Chariot Stroller and it usually takes us about an hour and a half, but she is good about it because there are horses at the top that she knows she gets to ride. When I told her there were horses at the end, her focus became something completely different. That experience became more positive than [she initially thought]."
Lead by example. If you want your kids to have fun outside, then go outside and have fun yourself. "Almost half the time, I'll ask Max if he wants to go skiing, or Blakesley if she wants to go for a hike, and they almost always say no and I'll say, 'Let's just go try it.'" Once you get them there and participating, they love it.
— Kiran Hefa