Gwen Stefani's Morning School Run Must-Have? Makeup!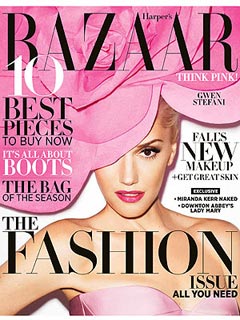 Terry Richardson for Harper's Bazaar
She's taken the stage in front of thousands of screaming fans. She's made her debut as a designer. And she's even effortlessly strutted her stuff down the runway.
But, hands-down, Gwen Stefani's most challenging role to date? Motherhood.
"It's super fun being a mom, but it's hard too. Finding that balance between work and family is the hardest thing I've ever done — by far," the No Doubt frontwoman, 42, says in the September issue of Harper's Bazaar.
Despite her hectic schedule — a typical day is dropping her eldest son Kingston, 6, off at school, working on her band's latest album, fulfilling business obligations and spending the evening with her boys, including Zuma, 4 this month, before wrapping up the day on her music video sets — Stefani still manages to keep up with her signature style from her bleached blonde locks to her red hot lips.

"I've always been a girl who loves to dress up. I already put my makeup on twice today: I put it on to take my kid to school, and then I went home, washed my face, and put it on again," she shares.
"I like to make my husband [Gavin Rossdale] like me more and he likes it when I'm wearing makeup."
And it seems as if Kingston is already following in the footsteps of his fashion-forward mom; After recently delving into the world of caped crusaders, Stefani indulged in an afternoon visit to a costume shop to spruce up her son's superhero wardrobe.
"He just discovered superheroes and he's obsessed," the songstress says. "It's like when I discovered Marilyn Monroe: ob-SESSED."
— Anya Leon