Jennifer Garner: Yes, Ben Wants More Kids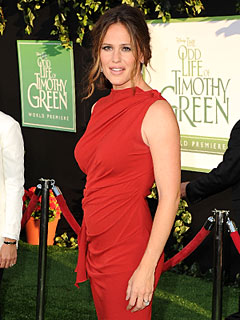 Steve Granitz/WireImage
With son Samuel only five months old, his dad Ben Affleck is already hoping for an even newer addition to their brood.
"The fact that Ben wants another [baby] is true," the actor's wife Jennifer Garner told EXTRA Monday, adding that since giving birth to their third child earlier this year — they're already parents to daughters Violet, 6½, and Seraphina, 3½ — it's "been absolute chaos" in their home.
Given the apparent madness, it only makes sense that Garner, 40, is in disagreement with her hubby's hopes.
"I can tell you that would be a pretty uphill battle with me," she says. "I am not anticipating having any more kids!"

But she does appreciate how Affleck, 39, is there to help out when she's busy with a movie role, including her most recent one, The Odd Life of Timothy Green.
"Ben took a break," she says. "He came, he did the school drop-offs and pick-ups and bedtimes."