Kristin Davis Is Learning to Balance Baby and Broadway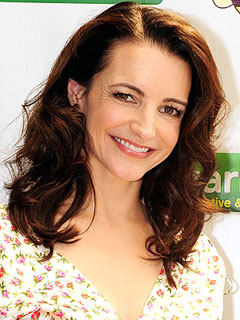 Courtesy Zarbee's
Mother by day, actress by night!
Currently starring in Broadway's The Best Man, Kristin Davis is learning to walk the fine line between baby — she adopted daughter Gemma Rose last summer — and her busy career.
"The show is at night most of the days, so I spend all morning and all day with her then I go do the show at night," Davis, 47, told PEOPLE during the Friday launch of Zarbee's all-natural, extra-strength cough product line at The Kimberly Hotel in New York City.
"It's actually [a] really great schedule for a mom. I'm able to be with her and have a job, which is rare and wonderful."
Logging long hours with her little one has allowed Davis to witness any major milestones, including watching her baby girl wobble her way toward taking her first few steps.

"She's trying to walk — she hasn't walked totally alone, but she walks with furniture," explains Davis. "She's doing great. I'm not trying to push her."
"Especially as a single mom, you have to be really on your toes. Once they start moving around as well, you can't be foggy," she adds. "There are so many things that can happen, so it gives me such peace of mind to know that there's something I can take that's healthy. Zarbee's coats my throat gently, doesn't affect my performance and doesn't affect me getting up at 6 a.m. with my baby."
She's still mastering her walk, but Gemma already knows where she's headed — to her storybooks.
"In L.A. we have a big bin of books and a big bin of toys and in the morning, when we go to play, she goes for the book bin," Davis shares. "I'm very proud of her."
— Anya Leon and Mabel Martinez