HGTV's Cortney and Robert Novogratz Go Vintage For Nursery Design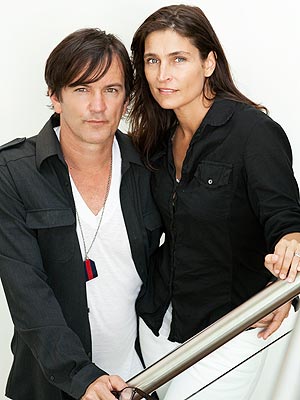 Courtesy Cortney and Robert Novogratz
As the parents of seven children, designers Cortney and Robert Novogratz have decorated their fair share of nurseries — and are frequently tasked with making kids' rooms unique on their HGTV series, Home by Novogratz (the second season premieres tomorrow!).
To help fellow parents do the same, the couple has partnered with online home goods retailer One Kings Lane to launch a new marketplace, Vintage & Market Finds, a one-stop shop for families looking to add special touches to their spaces.

"The nice thing about bringing in old pieces is it really gives a little soul to this baby's new room," says Cortney, who also advises starting small when first shopping for vintage items. "We're all going to the same shops to get the crib, the changing table, so it's really up to us to be individual and separate our baby's room." A few of their tips:
Buy a focal piece. "It could be one piece that makes the rest of the design unique," Robert says. For example, in a nursery project featured in the upcoming season, the pair utilized a limited supply of vintage wallpaper by only decorating the ceiling with it.
Look for old books and art. "Old books are also amazing for babies' rooms because some of the old nursery rhyme books, besides the fact that they look really cool, they're really beautiful and worn," Cortney says. "We also love any kind of oil pictures or paintings, folk art. Little fun or quirky, unique wall art because no one else is going to have that. If you found it at a flea market and it's an old piece, it's going to be one-of-a-kind."
Antiques can be affordable. "For our son, I bought old comic book covers, like Spider–Man and The Hulk and Thor," says Robert. "They were only 50 cents or a dollar. And I framed them in inexpensive frames. I had 25 on the wall at one point, and they were all from the '60s." Cortney adds, "If you mix in a beautiful old quilt or a clever way to put something up on the wall, quirky mirrors even, you can get really good, inexpensive frames, as opposed to new ones, for $10 or $20."
Check out the Novogratzs' curated sale for One Kings Lane, launching Sat., Aug. 4.
— Kiran Hefa