Elisabeth Röhm's Blog: Setting Limits and Picking Battles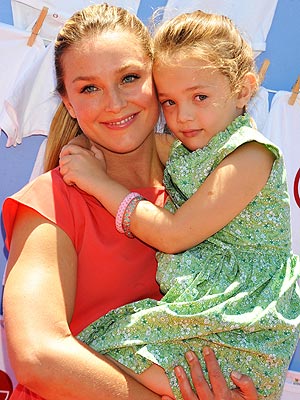 Red carpet with my girl – Scott Downie/Celebrity Photo
Elisabeth Röhm, best known for her roles as Serena on Law & Order and Kate on Angel, has been blogging for PEOPLE.com for over a year now.
The actress, 39, currently stars as Taylor on The Client List, while her film Transit is out now, with Officer Down following later this year.
She can be found on Facebook, Google + and @ElisabethRohm.
In her latest blog, Röhm — mom to 4-year-old Easton August with fiancé Ron Anthony — reflects on setting limits and picking battles with her little girl.
What are your best tips for working on this with your preschooler?

What's that old adage — "If you love something, set it free. If it comes back to you it's yours and if it doesn't it was never meant to be." The same thought can apply to all of our relationships.
I'm thinking of the wisdom my own mother shared with me about ownership, possessing and controlling those we love. She had an unusual philosophy in her parenting technique. She never threatened or was forceful with me. Instead, she gave me more and more freedom in exchange for communication and honesty.
I think that has worked well for me in my adult relationships too. Meaning trying to bend me to her will didn't usually work out for her (sound familiar?) and so she found another way into our relationship with one another and into knowing me, not just as her daughter but also as my own person.
I think it is quite true in our adult relationships that if we don't force ourselves onto others they come more easily toward us, since everyone is on some level healing and recovering from something. Being gentle is key. However, in this blog we can stick to the subject of our little ones and how we can have effective parenting lives where we don't grow to hate the sound of our own redundant and warning voice landing upon deaf ears.
I've been acknowledging lately that forceful anything usually backfires on me and most certainly with my precious little girl. Well, at least that's how it seems these days, as Easton is ripening and developing into her own person with feelings, needs, opinions, relationships and desires. News flash: She's not a little me, nor should she be.
Knowing which battles to pick and becoming comfortable with my own authority has been confusing lately. Setting limits is a lesson.
I'm one for having a good time in general and have never pursued a militant lifestyle in any way. I think there is a lot to be said for pleasure and lost afternoons. Sometimes taking a walk can be much more what the doctor ordered than working out, just like indulging can be just as satisfying as fasting. Everything in moderation, so they say, and I think they are right.
So then comes the question of discipline and those limits we just mentioned. Where and when and how much? I'm finding it challenging to know what to do with my fiercely independent, willful and expressive child who does need guidance and to practice restraint at times.
As we know, in all the areas of our lives, limits are good thing and exercising willpower is a useful life lesson. The last thing we want our kids to be is entitled and self-indulgent. Still, allowing them to march to their own beat and not projecting on to them what we think they should be doing is also wise, isn't it?
I mean, trust me, I get that our life experience is beneficial in helping them have perspective and that we shouldn't fulfill their every whim. I also know that we have to teach freedom and encourage their inner voice to be vocal and proud. Let's face it, the more we persist, the more they resist.
Making our children the center of our lives is just too much darn pressure on them and on us; we find we are just reacting to every little thing they are doing as we try to micro-manage them.
These days I'm also trying to find the balance of freedom and discipline in my own life as well as in my parenting technique. We deserve to be happy and yet … they deserve to be happy and yet …
Then question of your own personal happiness vs. obligation … know what I mean, PEOPLE.com? Or am I meandering on this summery day without any clear direction?
In thinking about our daily struggle with Easton and in our own lives this week, I'd say the question of personal happiness and ownership has been popping up everywhere. Where to find that solitude where you can hear your own thoughts without everyone pulling you in a million different directions.
Obviously we know our parenting life is full of sacrifice and joy all rolled into one. It's the same thing in our marriages and other relationships. And yet, even in these important relationships we need our solitude, individuality and to not be told what to do every minute of the day.
I hear my daughter saying to me, "Don't tell me what to do" as I write this. I guess that's why I'm struggling with which battles to choose lately, because I know that wandering and quiet allows you to know yourself and what your actual needs are, and not those that are being projected onto you by those you love.
Even my own perfect mother did it to me — parents all over and throughout time have been doing it to their kids. So how do we guide our children, which is our promise and responsibility, without trying to mold them into our vision of the future, of what we are or should be or could have been? How do we keep them safe without pushing them away? How can we stay close to them where they allow us into their true selves?
I'm not suggesting that we not discipline them, because I think without structure we are lost. Even in my wonderfully hippie-dippie childhood that was full of love and all kinds of sweet tenderness, I was personally frustrated by my mother's lack of structure and discipline.
Children long for their parent's authority just as much as people long for freedom and love; I think that is true. People crave boundaries. I actually see relief sometimes in Easton's face when I tell her, "No" or what to do as opposed to giving her too many choices and letting her run the household in her wild ways.
A thought to leave you with, by Kahlil Gibran, as we figure out our own journey and our significant relationship to our kiddos: "You may give them your love but not your thoughts, for they have their own thoughts. You may house their bodies but not their souls, for their souls dwell in the house of tomorrow, which you cannot visit, not even in your dreams. You may strive to be like them, but seek not to make them like you. You are the bows from which your children as living arrows are sent forth."
So today ladies, let's not focus on anything in particular on this summery day … tell me what's on your mind, what's irking you, what's working for you and what you're longing for above all else.
Again, our children are our greatest teachers because they guide us to reflect all the time on our own behavior, needs, misgivings and inner wisdom. They teach us about what we absolutely know for sure and what we need help figuring out, so let's figure it out together.
— Elisabeth Röhm