Celeb Parents Offer Support for Boobie-Palooza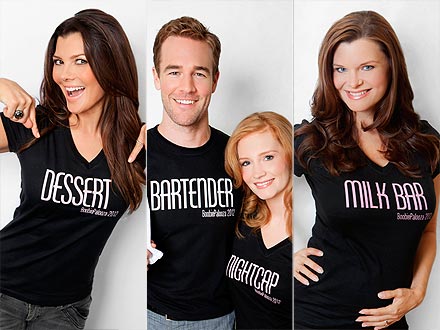 Shoots & Giggles
Get ready for a breastfeeding baby bash.
On Aug. 5, in celebration of World Breastfeeding Week, celebrities will join together with the public in L.A. for Boobie-Palooza, a special event geared toward shining light on the benefits of breastfeeding.
To get ready for the big day, celeb parents Ali Landry, James and Kimberly Van Der Beek and Heather Tom have posed for the ad campaign in cute and quirky tees sporting fun sayings, including "Dessert" and "Milk Bar."
"Nursing both of my babies has been the most rewarding experience as a mother," says Landry. "It is not always an easy journey, trust me, but with support from events like Boobie-Palooza, moms feel like they have an entire boobie community rooting for them."
With Kaitlin Olson, Sarah Shahi, and Jamie Lynn Grumet already scheduled to attend, invitees will enjoy several guest speakers — including author Dr. Harvey Karp and Ricki Lake — while participating in a nurse-in and learning about the tools and support needed for breastfeeding success.
"I breastfeed because I want to do what's best for my kids in all areas. It's really as simple as that," Olson shares.
— Anya Leon