Rosie Pope's Fave New On-the-Go Baby Bottle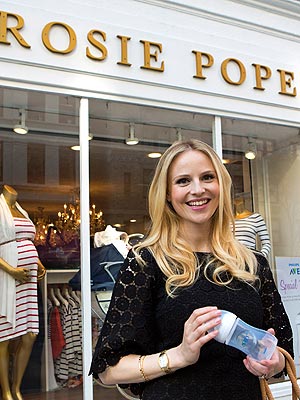 Courtesy Rosie Pope
Pregnant in Heels star Rosie Pope — who live-Tweeted baby girl Vivienne Madison's entry into the world on May 13 — says her daughter is settling into life with her big brothers and accompanying Mom on the road.
"She's doing great," Pope tells PEOPLE. "It feels really, really awesome to have the two boys and now a little girl."
And lucky for the reality star, Vivienne easily tags along on work events, including Pope's latest role as an ambassador for Philips Avent. The busy mom of three utilizes the brand's new Natural Bottle to feed her youngest on the go.

"There's a whole combination of reasons why you'd want to use a bottle, and you want to make sure you give your baby the best," the nursing mom says of the brand's newly redesigned products, which better mimic feeding at the breast (the bottles encourage natural latch on and makes it easier to combine bottle and breastfeeding).
"With my third baby, and being on live TV and constantly working, being able to have an option like this is really great and I wanted to share it with people."
Educating fellow moms is also what Pope hoped to focus on during the recently completed second season of Pregnant in Heels, in which she tackled everything from placenta-eating to a haunted nursery. But her greatest takeaway from the show was simple.
"[I've learned] that we're all kind of in the same boat in terms of wanting to be the best that we can be but being insecure about it; it helps to be around other moms and talk honestly about that," Pope says. "It certainly helps me with my own parenting."
— Kiran Hefa