Marisa Miller's Blog: I'm Having a Boy!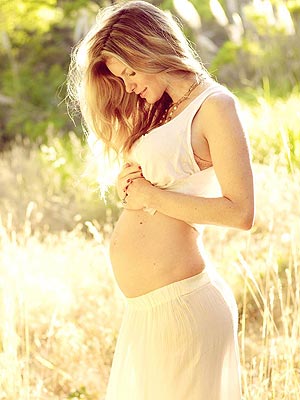 On a nature walk at 21 weeks – Griffin Guess
We're thrilled to welcome our newest celebrity blogger — Marisa Miller!
Throughout her career, the model and former Victoria's Secret star has graced over 80 covers — including Sports Illustrated, Cosmopolitan, Shape and GQ — and is a spokesperson for the NFL as well as the face of Harley Davidson.
She can next be seen in the upcoming film R.I.P.D., costarring Ryan Reynolds and Jeff Bridges.
Miller, 33, married husband Griffin Guess, a music producer and talent manager, on April 15, 2006 and they're expecting their first child — a boy! — in early December.
You can find Miller on Facebook and Twitter @MarisaMiller.

I was really excited when PEOPLE.com asked me to write a blog during my pregnancy. I've found such an amazing amount of support and feeling of community with other women going through the same things I am — I've learned so much already and I wanted to take the opportunity to share my experience as well.
I'm well into my second trimester and it's already been such an adventure!
First off, a little intro.
ME: I was born and raised in Santa Cruz, Calif. It was the best place to grow up. We had horses, goats and spent a lot of time outside and at the beach. I also grew up playing sports, surfing and was definitely more of a tomboy then a girly-girl.
I'm very close with my parents and my two younger sisters. Both my sisters had babies this year and I will give birth in December, so it's really exciting for us all to have babies in 2012!
MY HUSBAND: Griffin is my everything. We've been married for a little over six years now. He works in music and management and is extremely passionate about life. He surfs, loves motorcycles and doing anything outdoors.
MY PUP: Yes, Lula's a dog but most definitely part of the family. She's an Italian Greyhound and almost 2 years old. It has been great practice raising her. A puppy is not a child, but it's definitely been helpful raising something together with Griffin.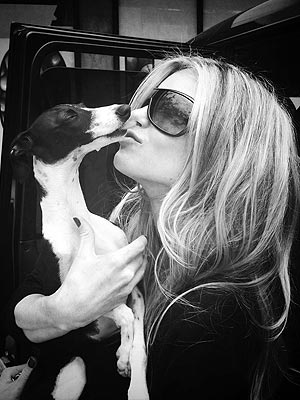 Me and my little Lula – Kevin Rafferty
Griffin and I have spoken so much about having babies throughout our marriage. We already have enough names for three kids, haha! It's always been a time we really looked forward to. I know you can't plan everything in life, but I knew that I wanted to really enjoy my pregnancy and have time to revel in motherhood as well.
For so long, I really didn't have more than a few days home at a time. I was on planes and in different cities every other day. The commitments for work would be so far in advance that it was really hard to have any personal time, and I missed most family functions.
I'm really happy that at that time, I was 100 percent focused on my career. I'm so thankful for all the opportunities I've had, but my lifestyle was just work. I knew it would be tough to balance my current schedule with having a baby.
Additionally, my career is so focused on the physical that I really didn't want the pressure on or to have to worry about anything that happened to my body during that time. My priority was being as healthy as possible for the baby and whatever physical changes that happened, so be it!
Oh and let me tell you, there are a lot of changes! My first trimester I was so exhausted. I could sleep 10 hours, then wake up, look in the mirror and still have eyes like a hound dog! I felt like the life was sucked out of me, no matter how much sleep I got. It was obvious that my body was really busy doing something else and "beauty sleep" didn't exist anymore!
I was also really dizzy and of course, nauseous. Then my skin started to break out like a teenager — really badly! The funny thing was, even as I was going through all this, I was still so happy. There was so much freedom in letting go of my appearance because the reason for all these symptoms was this miracle growing inside me. I really could care less about what I looked like.
After finding out I was pregnant, I threw out a lot of my beauty products and household cleaners. I am already pretty conscious about using mostly natural products, but I wasn't sure exactly which ones were okay, so until I could really research it, I stopped using anything questionable. Now I really had to embrace my broken-out skin — no zit cream!
I started researching like crazy and trying to get as much info as possible. My mom is a nurse in labor and delivery and postpartum — how perfect is that?! My sisters also just went through pregnancy and they were a huge help in giving me some essential info right away.
I got the lowdown on nutrition and vitamins. Did you know you are supposed to get 80-100 grams of protein a day? That is hard when you're nauseous! Some days, I was lucky just to find something to eat that didn't make me sick. I've always been pretty good about eating healthy but being pregnant gave me a whole new motivation.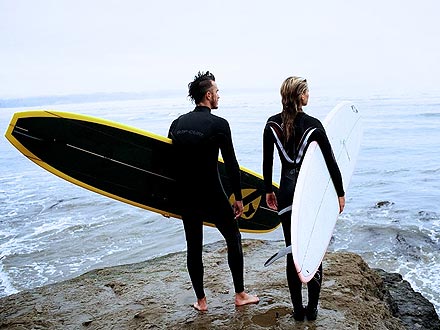 Griffin and I after surfing at Privates Beach in Santa Cruz – Steven Lippman
The first trimester is a little nerve-racking because you hear a lot about what can go wrong at the beginning. I felt like I was holding my breath until I had my first ultrasound appointment and could see the baby and the heartbeat. I wanted to know that the baby was okay and that this was all really happening!
After my first doctor's appointment and ultrasound at nine weeks, I got to see this tiny head and body and see the baby's heart beating! It was so amazing to actually have a visual of what was happening inside me! After that, my symptoms started to get better and food was becoming enjoyable again — maybe a little too enjoyable!!
My husband and I had another appointment this week and we got some really exciting news. We just found out that we are having a … BOY!!! We would be excited either way, but it was amazing to know for sure.
We did have a little heads-up early on though. During our 12-week ultrasound, the doctor was going over everything and asked, "Do you want to know the sex?" We replied, "Yes, but isn't it too early?" He told us that it was really early, but that it seemed "pretty obvious" to both him and the ultrasound technician, and that their guess was a boy.
Griffin said that if it turned out to be true, this would be a great story to tell our son one day — "It was so obvious that you were a boy — you had a penis before you had eyes." Haha!
Now that we know we're having a son, I've started thinking about my next step: bikinis. Griffin and I are going on a babymoon soon, and one of the upcoming tasks is trying on all my bathing suits to see if any of them work with my new body — eek!
Wish me luck,
— Marisa Miller
More from Marisa on PEOPLE.com: