Jay DeMarcus 'Went Into Panic Mode' as Wife Prepared for Early Delivery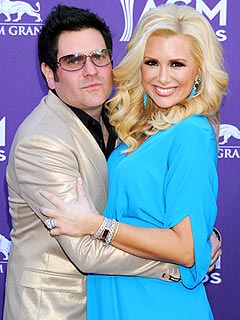 Tammie Arroyo/AFF-USA
Three days after the early arrival of his son, Jay DeMarcus is finally getting some quality cuddling time with his newest addition.
"It's been a blur, to be honest," the Rascal Flatts bassist, 41, tells PEOPLE of the three days since Dylan Jay's surprise delivery on Friday.
That morning, DeMarcus was in Detroit for a show when he got a call from his wife, CMT personality Allison, at home in Nashville.
Because of health concerns for the baby — who was due in August — she told him she would need to undergo a c-section that afternoon. "I immediately went into panic mode," he recalls.

DeMarcus got to the hospital with just over an hour to spare, but was left with only 20 minutes to hold his newborn before flying back to Detroit to perform.
"My wife was still on the operating table so it was very, very hard to leave, but we had a sold-out show and four acts out with us. I wanted to keep my commitment and my wife gets that," he explains.
"I had a police escort when I hit the ground and got there 30 minutes before we went on stage, so I just left my scrubs on. The crowd was very sweet and gave me a standing ovation!"
Assured by Allison, 35, that she and their son were doing well — the baby had fluid in his lungs, but it cleared out — DeMarcus went on to perform two more shows over the weekend before he could return home.
"I literally got back [Monday] morning and Dylan's been in my arms all day," he tells PEOPLE. "It's made the stressful weekend worth it to come back and hold him. It's finally sinking in that I've got a boy that's going to carry on our family name and I'm so thrilled to have little Dylan in our lives."
Nineteen-month-old big sister Madeline Leigh — who had her own early arrival — seemed pleased to meet her brother.
"I picked her up first and brought her over and it was the most amazing thing I ever witnessed," DeMarcus says. "Ali was holding Dylan, and Maddy went, 'Baby! Baby! Hi, Baby!' and started waving at him. She leaned over and kissed him on the cheek and patted his little hand."
"It was one of those moments I'll never forget as long as I live," he adds.
— Eileen Finan