Victoria Beckham Guides Harper's Sweet Steps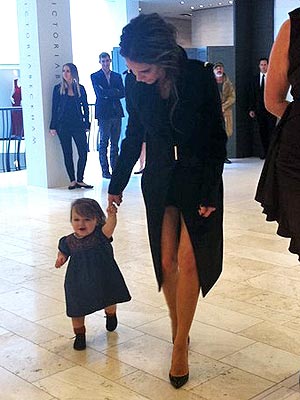 Courtesy Caroline Kennedy
Look who's walking!
Victoria Beckham stepped out with her daughter, Harper Seven, 1, in Dublin on Wednesday.
Excitedly hobbling alongside her fashionable mom, Harper smiled in a blue dress and black shoes as she made her public walking debut at Brown Thomas, a Dublin department store.
Caroline Kennedy, the managing director of Kennedy PR, captured what may be Harper's first steps in public.
"There's a very small girl called Harper in the house!" she shared on Twitter.

As Beckham, 38, prepared to reveal her fall line with an in-house fashion show, Harper strutted her stuff, thrilled to be walking.
During her time in Dublin, Beckham also greeted young fans, tweeting "Super young fashionistas in Dublin!! X vb."
— Maggie Coughlan
RELATED GALLERY: The Beckhams' American Adventure