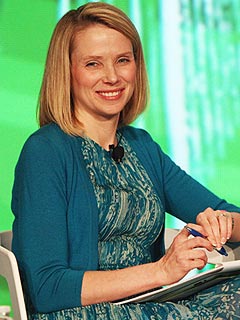 Paul Zimmerman/Getty
Marissa Mayer has an exciting new job — and a baby boy on the way.
With her son due Oct. 7, the Silicon Valley veteran has made a big move, trading in her position as a Google executive to become CEO of Yahoo.
Mayer, 37, disclosed the news that she's expecting to Yahoo's board in late June, and says the company demonstrated its "evolved thinking" by not making her pregnancy an issue.
Mayer begins her new position Tuesday — at 28 weeks pregnant — and says that come fall, she'll take a shortened maternity leave.
"I like to stay in the rhythm of things," she explains. "My maternity leave will be a few weeks long and I'll work throughout it."